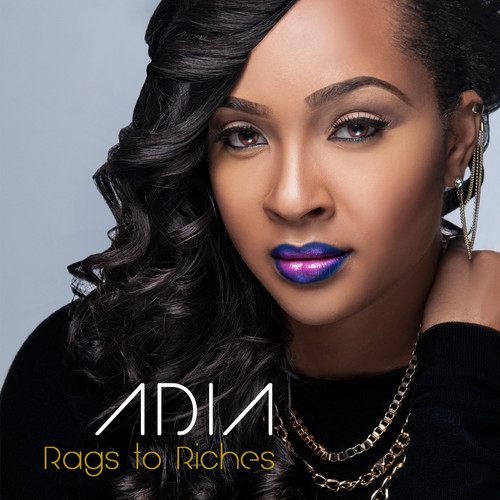 Get ready to welcome a new voice within R&B Gospel!  Xist Music is proud to announce the release of their first female artist Adia as she gears up for the release of her debut album, Behind Enemy Lines, which will hit stores July 29th.  Bringing a new vibe to the genre, the album is produced by Fred "Blaze" Crawford (Deitrick Haddon, Day 26, Dave Hollister, Ramsey Lewis), and gives a dynamic one-two-punch that is a treasure trove of songs that are not only message-driven but artistic, engaging, and entertaining.  Behind Enemy Lines features appearances by Jessica Reedy, Eric Dawkins, Sean Simmonds and Gemstones. 
The first single, "Rags to Riches" featuring Sean Simmonds, is available on iTunes today and has been well received among her fans as well as industry insiders.  The single highlights the realities of life, and how keeping the faith can carry one through.  The video, which co-stars Willie Taylor of Day 26, touches on topics of suicide, teen peer pressure, and verbal/physical abusive relationships.
Ready to share all of her inspirations, experiences and every tiny step of her journey with listeners, Adia wants her music to show people what real life looks like, how real faith works and how music — in its most real and honest form — can help to lighten loads and transform lives.
"I am so excited to share this project with the world," says Adia. "I believe that my generation will appreciate the transparency of "Behind Enemy Lines" and be able to receive and witness the Love of Jesus in a way that is relevant to them."
A young budding voice in the world of Gospel music, Adia was featured on the lead single "Incomplete"  from the movie soundtrack, "A Beautiful Soul," which was written by and starred Grammy nominated Gospel singer and TV personality Deitrick Haddon. The soundtrack hit #10 on the Billboard Gospel Charts. 
Adia will be hitting the road this summer making appearances at various concerts, tours and festivals.  For more information on Adia log onto www.adiadaily.com and follow her on social media at @adiasings.