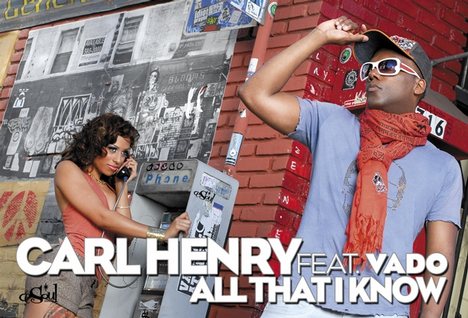 [audio:http://www.ykigs.com/1439.mp3]
Carl Henry personifies change and diversity. Born in Jamaica, raised in Montreal and having travelled and toured extensively, set the foundation for the R&B sensation to become the versatile artist he is today. He continues to forge ahead with his signature hot smoldering "soul
infused pop" reverberations that continually intoxicates and move the masses!
Carl's new album "All That I Know" has been two years in the making. Exploring life, love and its ups and downs, it's a searing journey, that came together through the artist bearing his experiences and the vision of Cecil Collins (CeSoul Music CEO) who brought together the magnetic forces of a hot ticket production team that includes Craig Groove (Nelly, Chris Brown), well known for his catchy style and unique beats (created by his love for drums) along with the ability to create hot tracks without the aid of a sampler and Will Guice, himself an accomplished singer/songwriter who's worked with Usher, Boyz II Men and Bootsy Collins along with Canadian super producer Boi-1da's camp who produced the title track has produced records for (Drake, Eminem and Usher.) He also renews acquaintances on this effort with super producer Red One (Shakira, Kat de Luna) whose highly tuned production skills, has always enabled him to capture the true essence of Carl Henry's vocals.
Based on strong arrangements, authentic rnb, pop rhythms and superb song-writing a 'wall of sound' has been molded around the "smooth as silk" Montreal based singer, that allows his vocal tapestry to soar, while succinctly laying in the grooves like 'hand in glove'… crucial ingredients that go into making ALL THAT I KNOW the 'go to' album of the year!
A child of the church, Carl honed his skills in gospel, seeped in soul and surrounded by the sounds and rhythms of his native land. This blend has been an integral cornerstone in building on a successful musical destiny.
His debut album entitled RNB garnered him his first Juno (Canada's Grammys) for Best R&B/Soul recording of the Year. This was an incredible start for this most unique artist!
After touring and promoting the french version of his debut, entitled Solution RNB (French version of the original album), he was ready to get back in the studio and pen more hits. Collaborating with Big Yard producer Mr Doo (Shaggy) gave birth to the hit single "Homie's Girl." This was then followed by the super dancehall hit "Bare As She Dare" (feat. Ce'cile) and "Hot Gal" (feat. Rally Bop), all of which respectively received three consecutive Juno nominations.
Riding high on the charts his songs were now international. On his sophomore album I WISH, released in fall 2005, Carl treated his audience to a tightly woven mesh of styles combining his myriad of influences r&b, dancehall, gospel, pop, soul and reggae and spawning hits like "I Wish" along with Lil' Mama, it was clear that Carl Henry was a force to be reckoned with!
Passion, dedication and a burning desire to achieve his goal has taken Carl Henry around the world, not only to headline his own shows but to share the stage with luminaries such as Mary J Blige, Black Eyed Peas, Patti Labelle, Sean Paul, Buju Banton and Beenie Man among others.
Constantly building on his dedicated fanbase, Carl Henry is now ready to quench their thirst with another venerable classic. With his titled single "All That I Know" ft. VADO (the debut single from the new album) Carl Henry exfoliates another layer in his artistic progression, which ought to put him in the running for one of the top artist albums of 2011 and beyond "With this single I wanted to create something classic; a real revelation of my musical range. I want no limits on this album and finally return back to core". My music is for everyone and I want ALL THAT I KNOW to be embraced as such" CARL HENRY. With representation by New York based management company SWAP Management Inc and the song currently hitting the airwaves its only a matter of time before Carl Henry takes the world by storm.
For more information on Carl:
www.twitter.com/carlhenry
www.facebook.com/carlhenry
www.swapmgmt.com
www.cesoul.com
www.twitter.com/@swapmanagement
www.facebook.com/SWAPManagement