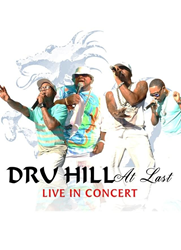 Multi- Platinum International Supergroup, Dru Hill, is hosting an opportunity of a lifetime for one lucky fan.
October 1, 2014 at the Howard Theatre in Washington, DC, The R&B Group Dru Hill will perform and record their live show, "DRU HILL-LIVE IN CONCERT: AT LAST". This will be the first live recording for the legendary group in their nearly 20 years together. The live recording comes in response to repeated requests from their fan base. The Live Recorded DVD/CD Combo will be provided to fans, by the group, free of charge as an added benefit and gift when fans join their Vipfan Reward Program.
To celebrate the event, Dru Hill will be awarding one lucky fan the opportunity to join and sing with them on stage. For the past two weeks, fans have been submitting videos on social media at #druhillviplive that the group will view and pick the winner from. The winner will be flown to Washington, DC to meet the group and then sing with them on stage October 1, 2014 at the Howard Theatre.
The production, the live show recording and the contest are all sponsored by Dru Hill's Vipfan Reward Program. The revolutionary Vipfan reward based program allows fans to join, earn points, rewards, vipfan access and over 300,000 national discounts. The program is similar to a hotel or airline reward based program but has been specifically designed and customized for fans of music, TV and sport celebrities. Monies from the Vipfan memberships go directly to the group which allows them to sponsor events such as this one. With the ever decreasing revenues in today's music industry, The Vipfan Reward Program becomes an exceptional solution with benefits to both the artist and their fans.
Almost 20 years ago, Dru Hill changed the complexion of R&B. Today, thru their innovative Vipfan Reward Program, they usher in the next evolution of music, bringing new talent with them along the way.
For more information on Dru Hill or The Vipfan Reward Program, please visit online at:

DRU HILL ONLINE http://druhillonline.com/
THE VIPFAN REWARD PROGRAM http://www.thevipfanprogram.com/
Tickets Available direct with the Howard Theatre at: http://thehowardtheatre.com/