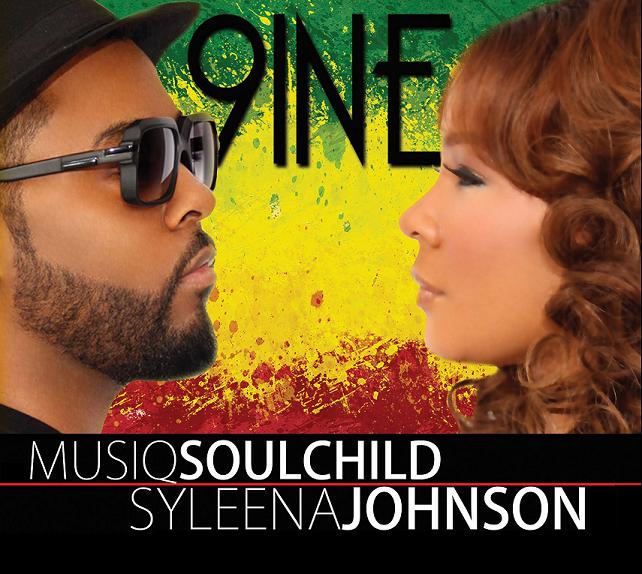 If imitation is the greatest form of flattery then Musiq Soulchild and Syleena Johnson must be feeling immensely flattered right about now. Shortly after Musiq & Syleena released their hot new single "Feel The Fire," from their highly anticipated upcoming reggae album 9INE due out September 24th on Shanachie Entertainment, Eddie Murphy released his reggae single "Red Light," featuring Snoop Lion a/k/a Snoop Dog. Murphy's new song is a teaser for HIS upcoming reggae album called, oddly enough, 9! In fact the opening of Murphy's single is eerie-ly similar to the opening of Musiq & Syleena's single, with a vocal chorus of "a-whoa's." The plot thickens even more when it is revealed that hit-making producer Kemar McGregor (who produced 9INE and who has produced and recorded hits for such artists as Gyptian, Beenie Man, Barrington Levy, Marcia Griffiths, Beres Hammond, Elephant Man, etc.) had been contacted by Eddie Murphy's camp about the possibility of producing at least some of Murphy's album. In addition, Syleena Johnson's manager Syleecia Thompson had in the early part of 2013 reached out to Snoop Lion about possibly performing on the Syleena/ Musiq album. An interesting sidelight is that Syleena Johnson's father R&B singer Syl Johnson has made headlines over the years with successful legal action against hip hop artists who sampled his recordings without permission including Jay-Z and Kanye West. During the month of September, Syleena Johnson and Musiq Soulchild will make a number of appearances hosting album listening parties.
"Eddie Murphy is a Hollywood superstar and Snoop Lion is a major hip-hop artist. For them to steal an idea from two R&B singers and a Jamaican reggae producer shows a lack of respect," states Kemar McGregor. "We have been working on this idea since November of last year. The idea has been publicized on Billboard.com, on TV and on the internet. There has been footage of the sessions on the R&B Divas TV show, and there is footage on YouTube about how the 9ine concept came about. There's evidence and proof that the concept for the idea is ours."
Syleena Johnson and Musiq Soulchild were initially brought together to record tracks for a project conceived Kemar McGregor, who had a vision of American R&B and pop artists making reggae recordings. Syleena and Musiq—two of the finest singers to emerge from the neo-soul movement—found the experience so exciting that they kept writing and recording reggae tracks together, recording the songs featured on 9INE. McGregor states, "it was a great experience to work with Musiq and Syleena, because it gave me a chance to blend Pop, Reggae and R&B into a fresh, new and groundbreaking style."
Musiq Soulchild and Syleena Johnson are two of the finest singers to emerge from the "neo-soul movement around the turn of the millennium. Musiq Soulchild was born Taalib Johnson in Philadelphia, the oldest of nine (there's that number again!) children. As a teenage dropout he began pursuing his obvious musical talent, beat-boxing, free styling, singing in the streets and in jazz clubs, acquiring the nickname "Musiq"; he added "Soulchild" as homage to the legacy of great soul artists who preceded him. He was part of the fertile Philadelphia scene that gave rise to The Roots, Jill Scott, Floetry, Bilal and, later, Jazmine Sullivan. His debut album went platinum in 2000 and his career took off, yielding two platinum albums, two gold albums and seven hit singles. He has been a guest vocalist on albums by everyone from Santana to Talib Kweli and has received 11 Grammy nominations. Most recently he has a featured role in the feature film "In The Meantime," which premiered on August 14th. Syleena Johnson was born into the business; her father is the noted soul/blues singer Syl Johnson who had a number of hits in the Sixties and Seventies and whose music has been widely sampled by hip-hop artists. Her mother Brenda Thompson was the first African-American female police commissioner. Her talent obvious from an early age growing up in Chicago, she performed on recordings with her father as a teenager and saw her debut solo release on her father's label in 1999, after transcending the challenge of having nodes removed from her throat which required two years of therapy. Signed to Jive Records, her major label debut album Chapter 1:Love, Pain And Forgiveness made major impact with its unsparing chronicle of an abusive relationship; all the songs except the hit single "I Am Your Woman" which was written by R. Kelly, were composed by Syleena. A succession of best-selling albums followed, all highlighted by Syleena's powerful, soulful vocals. She also scored ten hits with her own "Guess What" and with Kanye West on "All Falls Down." Most recently she has been one of the stars of the reality show R&B Divas, which just completed a successful second season. Episodes from this past season featured scenes from the recording studio working on songs fort 9INE.
The creation of 9INE represents an unusual event in today's music business—two major artists coming together to create music for the pure joy of it. 9INE is music-making without any commercial strategy. It is a bold move that has paid off in spades. When asked if she's concerned about the possibility of criticism from the Reggae community, Syleena doesn't hesitate. "No. I hope people don't calculate it so much. We're not changing our names. We're still Syleena Johnson and Musiq Soulchild. We're going to be our same selves. (This album) is going to make people feel good and enjoy our salute to a timeless genre of music. That's what we need in the world, feel good music."