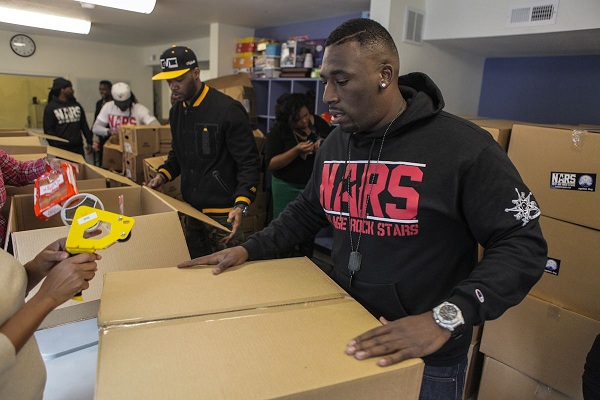 Nate 'Danja" Hills and Hit Record Label, N.A.R.S., Bestowed Hundreds of Meals to the People of Virginia Beach in Celebration of Thanksgiving
NEW YORK – November 21, 2012 – This year over 350 families in Virginia Beach commenced the Season of Giving with a benevolent two-day 'Holiday Give Back' Event last weekend. This celebration was graciously provided by award-winning producer, composer and songwriter, Nate 'Danja' Hills and his thriving record label, New Age Rock Stars (N.A.R.S.). Since journeying from his coastal hometown to attain massive acclaim in the music industry, Danja had yearned to offer his hand to the disadvantaged families of his native section of Virginia Beach. Joined by the support of his record label, including award-winning recording engineer Marcella Araica, Grammy-nominated songwriter Kevin Cossom, Soul Train Award Nominee, Luke James along with burgeoning talents Caligula and Wyld Money, this close-knit family of talent personally delivered heart-felt holiday cheer through this joyous occasion.
"For years I've wanted to give back and it is a huge achievement for myself and the N.A.R.S. team to finally make it happen. Way beyond anything I've accomplished in music, I'm blessed to have been able to support Friendship Village, a place that has shaped the foundation of who I am," Danja explained.
The first day of the celebration started on November 16th at 11:00AM at Friendship Square. Danja, partnered with his father's church, Advocate Gift of Life Ministries (2600 Mark Street Chesapeake, VA 23320. www.agolmi.org), welcomed community residents of all ages to gather in the building of his childhood residence in merriment. Each member of the Friendship Village community benefitted from a gift box filled with traditional holiday meal and trimmings in addition to N.A.R.S t-shirts and CDs from the label's talented recording artists such as Luke James, Kevin Cossom, Wyld and Caligula.
At Birdbeck Elementary School on Saturday, November 17th , N.A.R.S Records and local radio station WNVZ Z104 revealed an offering of 250 complimentary turkeys for local families in need. These generous donations answered the prayers of many low-income families in this Virginia Beach village.
Danja enthusiastically proclaims, "It was humbling to come back to the community where I grew up and provide the same support that I receive from Virginia Beach everyday. It was a memorable working with my N.A.R.S family to make this Thanksgiving a momentous experience for everyone."
Danja's commitment to his hometown extends beyond an occasional visit and this new tradition cultivates a homegrown legend that provides inspiration, optimism, and assurance for the people of Friendship Village. The altruistic actions of Danja and the N.A.R.S Records family embody their collective belief in uplifting those who have supported their success. They were overjoyed to express their generosity in a meaningful way and have a significant impact this holiday season and for years to come.
http://www.youtube.com/watch?v=U9QopS5lGis&feature=youtu.be