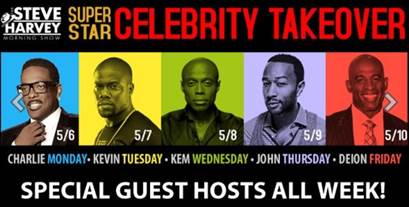 KEM WILL GUEST HOST STEVE HARVEY'S RADIO SHOW ON WEDNESDAY, MAY 8 AS PART OF A
WEEK-LONG CELEBRITY TAKEOVER WHILE STEVE HARVEY IS ON VACATION
Motown Artist KEM will take to the airwaves tomorrow, Wednesday, May 8 from 6:00am-10:00am EDT, as he takes on the role of special guest host of the Steve Harvey Morning Show as part of a week-long celebrity takeover while regular host, Steve Harvey, is on vacation.
KEM will host Steve Harvey's #1 rated syndicated radio show alongside regular co-hosts Shirley Strawberry, Nephew Tommy and Carla Ferrell with contributions from Junior and Sheryl Underwood.
The full lineup of celebrity guest hosts this week includes: Charlie Wilson on Monday, May 6, Kevin Hart on Tuesday May 7, KEM on Wednesday May 8, John Legend on Thursday May 9 and Deion Sanders on Friday, May 10.
"The opportunity to fill in for Steve Harvey as a guest host on his show is incredible," said KEM. "Steve has been great to us with his support over the years, and I'm looking forward to interacting with his co-hosts and listeners for a full show. I also have a surprise or two in store for everyone, so you won't want to miss it!"
Syndicated by Premiere Networks on nearly 70 radio stations across the U.S., The Steve Harvey Morning Show reaches approximately six million weekly listeners. The show broadcast is also available online at www.SteveHarvey.com, www.iHeartRadio.com, and on the iHeart Radio mobile app.
For more details, to find your local station or to listen online, please visit www.steveharvey.com