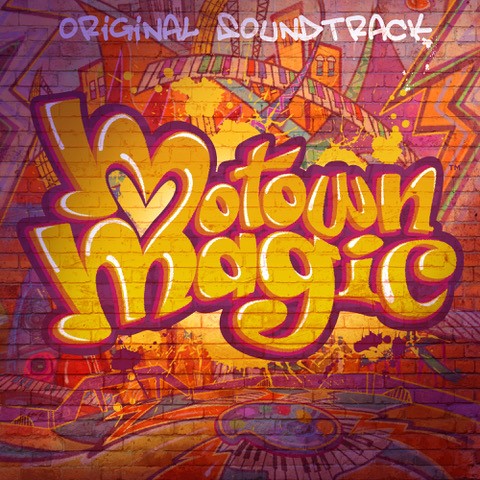 Melodia/Motown Records will release Motown Magic Original Soundtrack – a 13-song collection of classic Motown hits newly recorded by some of today's most acclaimed artists – just days before the November 20 premiere of Josh Wakely's animated Netflix series Motown Magic. The album will be available in CD and digital formats on Friday, November 16th.
The series' theme song – and the soundtrack's lead-off track – is "ABC," with 11-year-old Zacary James (Melisizwe Brothers) singing lead. "ABC" is one of the Jackson 5's signature songs and charted at No. 1 on the Billboard Hot 100 in April of 1970, knocking The Beatles' "Let It Be" off the top of the tally. Three-time GRAMMY® winner NE-YO covers Steve Wonder's No. 1 hit "Superstition."
Other artists featured on the album, produced by Wakely, include Becky G, BJ The Chicago Kid, Skylar Grey, Calum Scott and Trombone Shorty. Motown legend Smokey Robinson, Executive Music Producer for the series, contributes newly recorded versions of two hits that he co-wrote for other artists: "My Girl," which was The Temptations' first No. 1 hit, and "I'll Be Doggone," which was Marvin Gaye's first single to top the R&B chart and has never before been recorded by Robinson. The soundtrack's recordings were produced by Don Was, Harvey Mason Jr., Bob Mothersbaugh and Sean Carey.
Inspired by the iconic music of Motown, the groundbreaking series features original characters and a fantastical world from the mind of Wakely, creator of Netflix's Emmy®-winning kids' series, BEAT BUGS. MOTOWN MAGIC follows Ben, a wide-eyed eight-year-old with a big heart and an amazing imagination, who uses his magic paintbrush to bring the street-art decorating his city, Motown, to life. Each 11-minute episode incorporates a plotline inspired by the themes and characters of a classic Motown song, and an original version of that song covered by a contemporary artist. The series, premiering November 20 on Netflix, is produced by Grace: a storytelling company (Grace).
"It's always time to introduce the music of Motown to a new generation, and Josh Wakely has the creativity and the vision to entertain families all over the world," said Smokey Robinson. "It's exciting to see these timeless classics re-imagined through extraordinary animation and heartfelt stories while still honoring the roots of the music."
"There are little things that happen on those [original Motown] records," said Detroit-born Don Was, the GRAMMY-winning producer who is President of Blue Note Records. Was explains, "that was one of the biggest thrills of all time, to listen to these tracks to figure out what was really happening, and to try to capture those little nuanced moments that gave the songs their character."
Motown Magic Original Soundtrack Tracklist
1. ABC (Zacary James and Motown Magic Cast)
2. For Once In My Life (Becky G)
3. My Girl (Smokey Robinson)
4. Living For The City (BJ The Chicago Kid)
5. Signed, Sealed, Delivered, I'm Yours (Skylar Grey)
6. Ben (Motown Magic Cast featuring Julia Stone)
7. Superstition (NE-YO)
8. I Heard It Through The Grapevine (Calum Scott)
9. Road Runner (Trombone Shorty)
10. He's Misstra Know-It-All (Motown Magic Cast featuring Jacquez "Quizz" Swanigan)
11. I'll Be Doggone (Smokey Robinson)
12. The Tracks Of My Tears (Motown Magic Cast featuring Jacquez "Quizz" Swanigan)
13. Reach Out I'll Be There (Motown Magic Cast)