New Music: Jenn Em "Jailkeeper"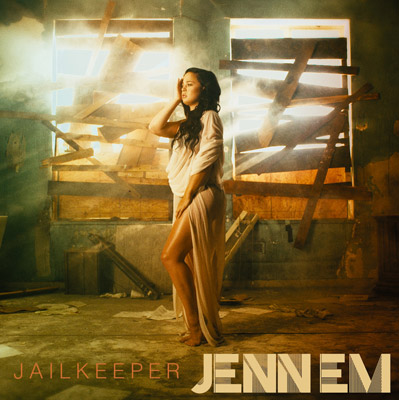 Blue eyed raw-soul inspired singer-songwriter, Jenn Em debuts her single "JAILKEEPER" available on iTunes July 15, 2014. "JAILKEEPER" – a dark orchestrated track complimented by Jenn Em's heart wrenching sultry vocals and poetic lyrics – will seize your ears and soul at first lisen.
Jenn Em, 22, was born and raised in the shadow of the US capitol, in small-town Chevy Chase, Maryland. The lone creative soul in a family of academic types, Jenn was playing the piano by age four, had written her first song at age six, and took up the violin at age seven. As a rebellious teenager she expanded her musical repertoire by venturing into the world of hip-hop and R&B. In 2008 she released a remix of "Nike Boots" by fellow Washington, D.C. native Walé (feat. Lil' Wayne). The track exploded in the local market and provided the motivation the then seventeen-year old Jenn needed to decide to pack up and hit the road for Los Angeles.
"I sang everywhere, for everyone – anyone!" she reflects about her early moments looking for a break on the West coast. Stumbling over roadblocks in life and love how young, ambitious girls do, Jenn poured her pain into her music. By chance, she met JUB Records owner + executive Jubbie Chang – with whom she grew an electric creative synergy and developed her unique musical sound. Together, they began working on Jenn's deeply personal and inspired project.
"JAILKEEPER" is the first release but not the last that you'll hear from Jenn Em. The track is the first installment from her forthcoming EP. Stay tuned for the "JAILKEEPER" video coming soon.
Tagged:
Jenn Em