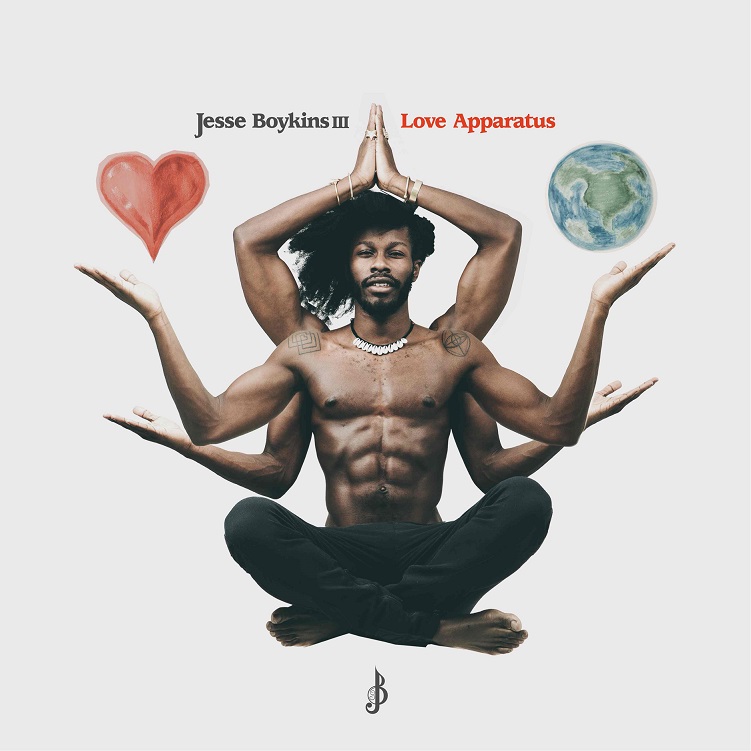 Today, singer/songwriter Jesse Boykins III has revealed the cover art and full tracklist for his highly anticipated forthcoming album Love Apparatus due out April 22nd.
"The cover is a representation of balance. The balance between the artistic mind and what the world takes from the art that is created," says Jesse Boykins III.
With the cover art, tracklist and pre-order, Jesse has also released the latest track off of Love Apparatus, "Live In Me" produced by Machinedrum. The mid-tempo song, which takes listeners on the endless search for finding love, is available for immediate download with the pre-order of Love Apparatus today.
The full tracklist for Love Apparatus reveals the majority of production on the album coming from famed producer Machinedrum, with additional production from Jesse himself. Previously released tracks include "Plain" which Esquire called a "rocket shot of a single that's dashed with abit of R&B, a little soul, splattered with electro flourishes," "Show Me Who You Are" that Noisey proclaimed is "refreshing" and the fan favorite "B4 The Night Is Thru." The album also comes equipped with strong features from Phonte of The Foreign Exchange and longtime collaborator Theophilus London.
To celebrate the release of Love Apparatus Jesse Boykins III will perform live at New York City's Irving Plaza on Saturday, May 3rd. Jesse will perform new music off the album as well as cuts from his past projects Zulu Guru, Way of Wayfarer, The Beauty Created, My Life On My Back and more. Tickets for the special performance will go on sale to the public on Friday, April 4th at 9:00am via Ticketmaster.
Love Apparatus comes after years of consistent touring from the Chicago born indie Soul / R&B singer. After being selected for Red Bull's Red Bull Music Academy, touring the world extensively, Jesse completed his Love Apparatus project, his first since the release of his 2011 EP Way of Wayfarer. In between the EP and Love Apparatus, Jesse also released a collaborative effort with Brooklyn based producer MeLo-X, the eccentric Zulu Guru album. In 2008, Jesse Boykins III first came to prominence with the release of his albums My Life On My Back and The Beauty Created, both of which garnered Jesse acclaim across the gamut with the Huffington Post claiming Jesse is "reminiscent of Maxwell or D'Angelo" and eventual features and praise from the likes of EBONY Magazine, GQ, i-D Magazine, Wax Poetics and more.
Love Apparatus Tracklist:
1. GreyScale [prod. Machinedrum]
2. B4 The Night Is Thru [prod. Machinedrum]
3. Create Beauty [prod. Chad Beatz | J.Boykins III | Machinedrum]
4. I Wish [prod by Jesse Boykins III]
5. Tell Me [prod. by Machinedrum] ft. Theophilus London
6. Show Me Who You Are [prod. by Machinedrum]
7. Live In Me [prod. by Machinedrum]
8. 4 U 2 B Free [prod by Machinedrum]
9. The Wonder Years [prod. by Machinedrum]
10. Plain [prod. by Machinedrum]
11. A Matter Of The Heart [prod. by Hadyn & J.Boykins III] ft. Phonte
12. 4 Ever No More [prod. by Machinedrum]
13. Make Believe [prod. by Machinedrum]
14. Heavenly Eyes [prod by Jesse Boykins III]