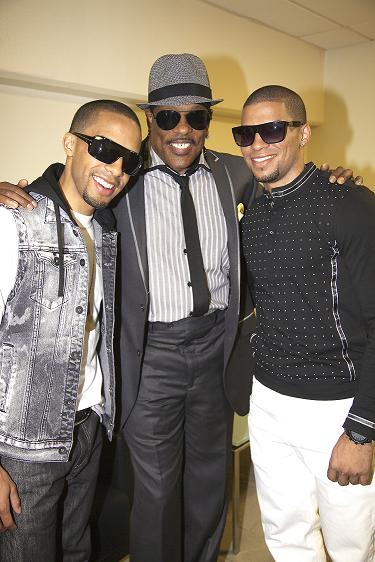 P Music Group is preparing for the launch of an exciting new Latin R&B duo, Solero. In an effort to give the music industry and the consumer a taste of these talented young singer/songwriters, P Music has released their promotional YouTube video for "Crying For You" which can be viewed here.
Brothers, Jean and Jonathan Solero, are natives of Bayamón, Puerto Rico. "2012 was an exciting year for us and we can't wait to release our debut album which is almost completed," stated Jean. "P Music Group signed us and the next thing we knew we were on stage with the incomparable Charlie Wilson at the Essence Music Festival.
"We are excited about the release of the "Crying For You" video. We hope it will give people an idea of what we can do."
"We discovered Solero after viewing their YouTube version of Charlie Wilson's Grammy-nominated hit single, "You Are" in Spanish" stated P Music Group President/CEO, Michael Paran. "We were so impressed with their talent that we arranged to have them perform that song with Charlie during his much heralded performance at the Essence Music Festival in New Orleans last July. "
"Performing at the Essence Music Festival as part of Charlie's incredible show was both an honor and blessing for us," says Jonathan. "R&B music has influenced us all our lives but performing to over 60,000 people in the Super Dome and seeing them react to our version of "You Are" was pure magic. To view Solero's performance and photo gallery from Essence please click here.
Solero has also received rave reviews from the Latin music community. Oscar Serrano member of the Grammy Award-winning Puerto Rican based group, Grupo Manía, said "Wow Wow! Solero is amazing, completely innovative. They have all the musical qualities of elite artists. I honestly love their concept."
"Solero's musical style is an innovative mixture of traditional R&B and Pop which includes some soulful ballads and mid-tempo songs which we believe will showcase their strong vocal abilities in both English and Spanish," continued Paran.
Stay connected with Solero:
Website: www.solerobrothers.com
Facebook: www.facebook.com/solerobrothers
YouTube: www.youtube.com/solerotv
Twitter: www.twitter.com/solerobrothers
Instagram: www.instagram.com/solerobrothers