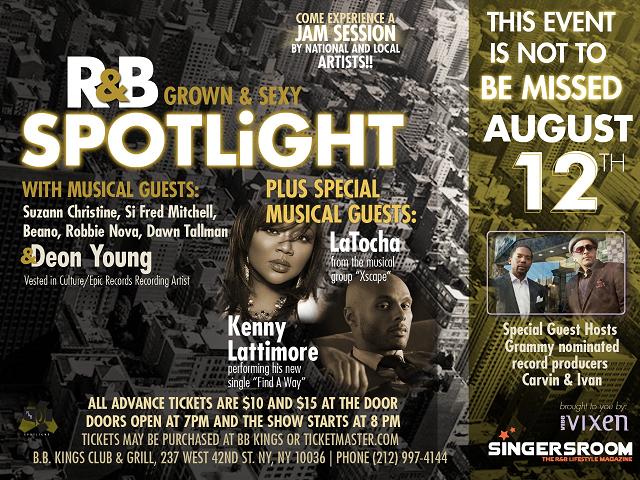 Returning once again to B.B. King's in NYC, RnB Spotlight Talent Showcase. This time around, the event will featuring LaTocha Scott & Kenny Lattimore.
R&B Spotlight is an exclusive "live" showcase of favorite national and local R&B talent, fusing old and new school flavors. The monthly event is hosted at the legendary BB King's Blues & Grill located in the heart of Times Square. Chart-topping superstars have headlined recent shows: S.W.V, R.L. of 90's R&B group, Next; Meelah of 702; and most recently, Sisqo, lead singer of multi-platinum group Dru Hill.
The purpose of R&B Spotlight is to open the curtain of opportunity for the next superstar to be discovered. Amateurs are given a "platform" to showcase their talents and gain local and national exposure in the R&B community. The event is streamed live for the world to see, thus expanding the audience beyond the walls of the venue.
"We hope that by inviting national acts, we'll inspire up and coming artists to pursue their dreams," founder of R&B Spotlight's Cory Taylor stated.
If you would like to be a part of our showcase please send a live video performance of your talent to TalentRnBSpotlight@gmail.com . For Further questions contact 21Voices Entertainment offices @ (718) 576-1950 or BB King's direct @212-997-4144
Doors open at 7 p.m. show starts at 8 p.m. Tickets are $10 dollars in advance and $15 day of the event. Tickets may be purchased directly at BB Kings or at ticketmaster.com
VIBE and SINGERSROOM are the official media sponsors for R&B Spotlight.