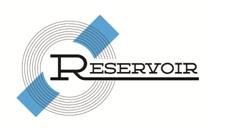 Reservoir is pleased to announce its first release from Philly Groove Records, the historic Philadelphia-based R&B label acquired by the company in late 2012. The inaugural release, entitled Philly Groove Records Presents The Delfonics: This Time, is the first of several collections to be made available by Reservoir over the coming year. The album marks the independent music publisher's first venture into record distribution.
Reservoir SVP of Creative and Business Development Faith Newman spearheaded the company's acquisition of Philly Groove Records and its corresponding music publishing catalog, Nickel Shoe Music. The transition included the arduous task of sourcing the master recordings of both catalogs—nearly 300 titles combined—from recording studios across the country, converting the original analog tapes into digital files, and providing creative and administrative support for the new Reservoir releases.
"Other classic record labels have been really well preserved in terms of their brand and their artists' legacies, where Philly Groove had incredible music but was relatively unknown," Newman says. "I felt that if no one stepped in and made it their mission to maintain this catalog, it would have been lost to history. And the music is just too good for that."
Philly Groove Records was founded in 1967 by record executive and Philadelphia native Stan Watson. Under the leadership of Watson and the label's principle A&R executive, Songwriter Hall of Fame inductee Thom Bell, the roster grew over the late 1960s and early 1970s to include fifteen funk, soul, and R&B acts. Artists ranged from international successes, like The Delfonics, to rarely released acts, like socially conscious soul group The Nat Turner Rebellion.
While each of the catalog's artists provide invaluable historical texture to the Philly Groove Records portrait, the proven success and lasting intrigue surrounding R&B trio The Delfonics make the group a symbolic first release in Reservoir's rollout. Several of Philly Groove and Nickel Shoe's most prominent hits come from that act's repertoire alone: the Platinum-selling "La La Means I Love You"; the famously Fugees-sampled "Ready Or Not Here I Come (Can't Hide From Love)", also borrowed by producer Missy Elliot and interpolated by Disney star Bridgit Mendler; pop crossover hit "Trying to Make A Fool of Me"; and the Nas-interpolated "Walk Right Up to the Sun" are just a few Philly Groove Records highlights originally performed by the band. In popular culture, the group's legacy remains timely. McDonald's featured the Delfonics classic "Hey! Love" in a 2013 commercial for its 'Think With Your Mouth' advertising campaign. Meanwhile, Comcast and Radio One-owned channel TV One will profile the group in the latest episode of their music documentary series, Unsung, to air November 20th.
"Being a native Philadelphian and a soul music enthusiast, I am humbled to have the opportunity to help bring Philly Groove back to life," says Newman. "It's more than a new direction for us—unearthing these songs is a labor of love."
Philly Groove Records Presents The Delfonics: This Time is available beginning November 19th on iTunes in the U.S. and overseas.