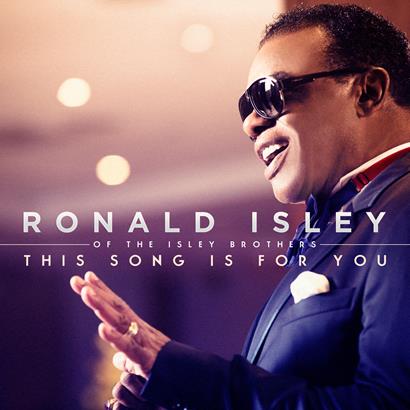 Music legend Ronald Isley has released a second single from his new album, This Song is For You. The single, "My Favorite Thing," features R&B star Kem, and has already been added to: SXHS/Heart& Soul, MCRB/Music Choice, WBLS/New York, KJLH/Los Angeles, WSRB/Chicago, KBLX/San Francisco, WDAS/Philadelphia, WMXD/Detroit, WCFB/Orlando, WTLC/Indianapolis, WSOL/Jacksonville, KJMS/Memphis, WBAV/Charlotte, WMJM/Louisville, WBHK/Birmingham, WUHT/Birmingham and others.
Ronald Isley and Kem performed a rousing rendition of "My Favorite Thing" on The Arsenio Hall Show last week. Isley is also slated to perform on the 2013 Soul Train Awards, which will tape on November 8 in Las Vegas, and premiere on Centric and BET on December 1 at 8 p.m. ET. Listen to "My Favorite Thing" here. Watch the video for 'My Favorite Thing" here.
Isley's latest album, This Song is For You," was released earlier this year, and debuted on the charts at #3 on the R&B chart, #4 on the Independent Chart, and #27 on the Top 200. Isley is one of the very few artists to have a top 10 R&B album in each of the last six decades!
The first single, "Dinner and a Movie," went Top 10 at urban AC radio. To listen to "Dinner and a Movie" click here.
Isley, as part of the Isley brothers, released the dance anthem "Shout" in 1959. This hit was followed by "It's Your Thing," "Twist and Shout," "This Old Heart of Mine," and more. After forming the T-Neck label to maintain better control over their recordings, the Isleys charted more than 20 pop titles in the '70s (and nearly twice that many on the R&B side) with hits like Stephen Stills' "Love The One You're With," "That Lady," Seals & Crofts' "Summer Breeze," "Harvest for the World," "Fight The Power Part 1," "For The Love of You," "The Pride," "Take Me To the Next Phase," and "I Wanna Be With You," among many others. The next few decades saw more hits by The Isley Brothers, including "Between The Sheets," and "Don't Say Goodnight (It's Time For Love)."
In 2003, Ronald Isley released an acclaimed album with songwriting legend Burt Bacharach titled, Here I Am: Bacharach Meets Isley. Isley has also had a long-standing collaboration with R. Kelly, who produced and wrote material for Isley in the mid '90s and early '00s. Isley also sang hooks on tracks for R. Kelly, as well as hip-hop acts such as Warren G., 2Pac and UGK.