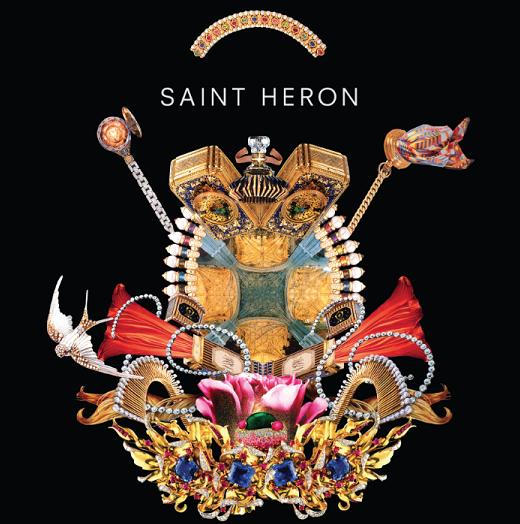 Saint Records, the boutique, independent R&B label founded by songwriter and recording artist Solange Knowles, is proud to announce that their debut offering, Saint Heron, will be released this fall. A stunning compilation album featuring twelve original songs from artists handpicked by Solange, Saint Heron will be released digitally and instores on November 12th. The album will be available on both cd and vinyl.
Saint Heron will serve as the inaugural annual compilation from Saint Records. The intent of the album, and the label at large, is to feature, highlight and align a new movement of contemporary, genre-defying R&B visionaries. Solange, who lends her voice to the album as an artist, curated and creative directed the project in full, from the selection of artists and track sequencing down to the packaging and release date.
"With Saint Heron I really wanted to celebrate and continue to cultivate the community for genre defying R&B artists," says Solange. She adds, "I've personally connected with all of these extremely talented artists, and really excited for us to come together through the compilation as a newmovement for music. I'm also looking forward to SaintHeron.com being a home for music and cultural enthusiasts like myself who want to seecontent that really reflects the community we are a part of. "
Saint Heron will feature new, unreleased material from Solange, Cassie, Jade J, Starchild and BC Kingdom, with additional musical contributions and offerings from Kelela, Petite Noir, Iman Omari, India Shawn, as well asJhene Aiko and Sampha, both of whom can currently be heard on the Drake's new album Nothing Was the Same.
The first single off Saint Heron to be released to digital retailers is "Go All Night" from Los Angeles-based vocalist and songwriter Kelela. The track, produced by Morri$, features Kelela's distinct forward thinking songwriting and vocal blend. "Go All Night" first appeared as a two-part interlude on Kelela's album CUT 4 ME; as Solange loved the song, Kelela has now released the full-length version for Saint Heron.
Simultaneously, Saint Records is also launching SaintHeron.com, a full-scale new music and cultural hub featuring unique content from the Saint Records family. SaintHeron.com will publish one on one interview, thought provoking essays, articles on fine artists and musicians as well as new music and information on Saint Heron and Saint Records. The first round ofpostings for SaintHeron.com include interviews with Kelela, BC Kingdom and Rashaad Newsome.
The artwork for Kelela's "Go All Night" was conceptualized and created by mixed media artist Rashaad Newsome. A native of New Orleans, Newsome, who has been featured in the Museum of Modern Art and the New Orleans Museum of Art, is celebrated for his ability to render urban life in a formal studio context, his rich textures and his ability to seamlessly integrate Art History, technology and music into his work. Rashaad Newsome also created the album artwork for Saint Heron; the remarkable imagery depicts luxurious baroque jewels, a singular crown, flower petals and a winged bird, all joined together in a regal, shield like form.
For more information on Saint Records, Saint Heron and forthcoming appearances and concerts, please visit www.saintrecords.com and www.saintheron.com, the official websites.