Zongo Junction "The Van That Got Away"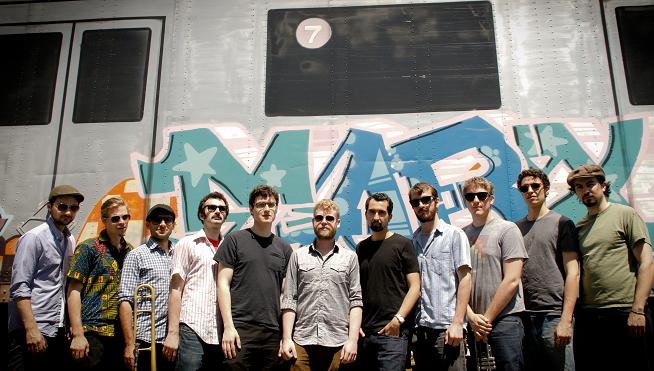 Generating a well-deserved buzz in NYC's exploding afrobeat scene, Zongo Junction electrifies dance floors wherever they perform. The Village Voice describes their live show as "Sheer energy with the force of a tractor-trailer that roars with power and noise." With five horns, and a six-piece rhythm section, audiences can't help but move no matter where the band is playing.
If the Talking Heads produced a Fela Kuti record of Sun Ra's music, the product would probably sound something like Brooklyn's Zongo Junction, and in an industry where it has become commonplace to watch bands perform with laptops & backing tracks instead of live musicians, Zongo Junction takes the stage 11 strong. "The only thing Zongo Junction has to do to start a legitimate dance party is show up and plug in – anyone within a square block earshot of this Ford-tough funk factory would be hard pressed not to join in the hoopla" says the Bay Area's SF Station.
Zongo Junction formed in 2009, when drummer and California native, Charles Ferguson, returned from a six-month stay in Ghana, West Africa. "Growing up in the Bay Area, I was exposed to a lot of amazing music from many different cultures, a lot of which had roots in West Africa. As a kid, a few different music teachers introduced me to afrobeat, and the pioneers of the genre—Fela Kuti, Tony Allen, OJ Ekemode, Sunny Ade and others. My love of African music brought me to Ghana in 2008 and when I returned to New York, I knew I wanted to start this band."
In college at the New School, Charles and a classmate put together a list of friends who they thought would be good fits for the band. Soon after they started rehearsing, Zongo Junction began performing and developing a following in East Coast clubs. Such a unique and talented act, has proven to be a favorite booking at colleges such as Wesleyan, Oberlin, Hampshire, and Vassar, performing arts centers such as the Kennedy Center and Brooklyn Museum, festivals like the Bear Creek Music and Arts Festival, and venues such as Brooklyn Bowl.
The band recorded their first album, Thieves! in 2010, which included a collaboration with longtime Fela Kuti band member, Leon Kaleta Ligan-Majek. More recently the band has collaborated with FELA! cast member Abena Koomson. Members of the band have performed or recorded with TV On The Radio, Man Man, Easy Star All-Stars and The Walkmen, among others.
Zongo Junction is hard at work recording their second album, scheduled for release in 2013. "In writing this music as a collective, a lot of really cool new influences have emerged," points out tenor saxophonist Adam Schatz. The music on the album embraces the individual members' interests, from Dirty Projectors, to Albert Ayler, Wu Tang to Meshuggah. At the music's core, you will always find the infectiously danceable West African grooves that are the foundation of Zongo Junction. The band effortlessly ties it all together, resulting in a unique version of afrobeat.
To Read More on Zongo Junction:
Website – www.zongojunction.net
Facebook – www.facebook.com/zongojunction
Twitter – www.twitter.com/zongojunction
Instagram – www.instagram.com/zongojunction
YouTube – www.youtube.com/zongojunction
Pinterest – www.pinterest.com/zongojunction