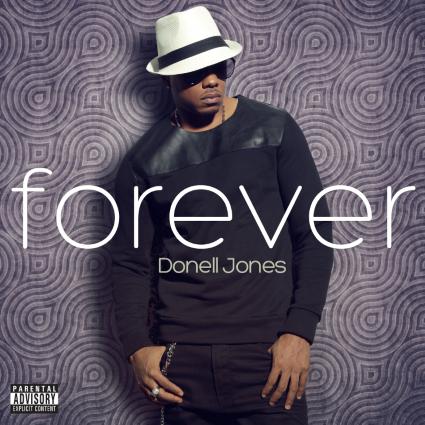 Entertainment One Music, in conjunction with R&B veteran Donell Jones and his CandyMan Music label, announce the July 9th, 2013 release of his new studio album titled "Donell Jones Forever." The long-awaited follow-up to 2010's "Lyrics," is cumulatively an ode to love that will take listeners through love's highs and lows. Please take a minute to stream the new album and contact me if you would like a download link or to interview Donell.
Fittingly, Donell Jones Forever, which is scheduled for release in July, takes listeners on a journey filled with tantalizing tunes that evoke warmth, romance and maturity. The lead single, simply called "Forever," is a beautiful ballad in which Donell declares his appreciation for partnership, unabashed love and the excitement of spending his life with that one special person—the woman he has been with for the last eight years. That woman, known as his 22 on the song, also happens to be his fiancée. "I'm not really into horoscope or astrology, but I discovered her life path number is 22, so instead of saying her name on the song, I said 'my 22', so she knew I was talking about her."
Serendipitously, his life number is 11, half of hers. "I found the perfect person. 'Forever' is me professing my love to her. I wrote this song to let her know I'm here. I want to be with her. I made my decision, even though it took me a little bit of time. I want to marry her. She stayed with me and we're on this journey together."
Slated as the second song for release is "Sorry Just Wasn't Enough," which will mix things up and remind people to acknowledge and appreciate their significant other while they are together. The story behind that? "This guy hurts this woman one too many times and sorry just doesn't work anymore. He ran out of 'I'm sorry'. He knows that it's over, but in his head, he still feels like he has a chance."
While he sings about the woes of a man whose sorry is a broken record, Donell Jones Forever, cumulatively is an ode to love. Three years ago, however, he released Lyrics, an album that addressed heartache and being a heartbreaker. "That one was about all kinds of crazy stuff like cheating and sneaking in someone's backdoor. On that album, I was just doing songs. Some were personal experiences and others were things people told me. Now, I'm different."
Though it seems like yesterday, Donell started his professional career in 1992, making him a twenty-one year veteran who has written hits for everyone from Usher to Brownstone to 702. In 1996 he released his first album titled My Heart and three years later Where I Wanna Be, which went platinum. Originally signed with LaFace Records then shuffled over to the crowded Jive roster, Donell still struck a #1 hit on theJourney of a Gemini album. Instead of getting lost, Donell found inspiration and made a major move; he left and started his own boutique label called Candy Man Music. Over the years, others took notice, allowing him to form a major, notable partnership. "I'm happy eOne Music gave me this [distribution and marketing] opportunity. I just want to put out good music."
Sure, R&B has evolved into something that now resembles a mix of auto tune, computer generated instruments, and a bit of singing, but Donell has remained consistent, creating hits by sticking to what he knows best. "Musically, I still fit right in. I wrote this album and as a true songwriter, I'm able to go deep. [What sets me apart is that] I incorporate live instrumentation including guitars and congas."
Coming from the hard streets of Chicago, rising to international fame then going independent wasn't easy, but all those experiences prepared Donell for today. As the journey continues to unfold, it becomes more incredible. "I'm in a new stage in my life and I want my music to reflect that. I'm happy."
Fans old and new will be equally elated that he is happy— and back.