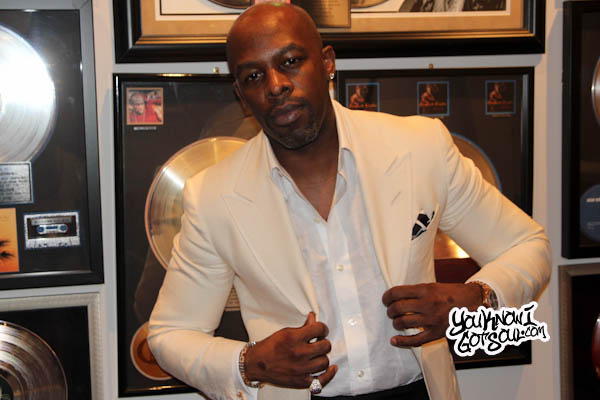 Joe has certainly done it all in r&b. Grammy Nominations, Platinum albums, #1 singles, world tours. But the most important part is that he's been able to do it all on his own terms. When someone says "Classic Joe Sound", you know exactly the style of timeless r&b their talking about. So now as he approaches the release of his tenth album and two decades in music, what does he have left to accomplish? Where is the motivation coming from to continue making classic music? It comes from two of the purest places possible; his fans and the desire to create a legacy his family could be proud of. The new album is called "Double Back: The Resurrection of r&b" and he hopes not only to revive a genre that has been pushed into the shadows, but also to continue to inspire the younger generation of artists. We sat down with Joe while he was on a promo run in NYC and discussed the meaning of the new title, continuing to progress his sound, what motivates him to make good music at this stage in his career, his origins in music, and much more.
YouKnowIGotSoul: Talk about your new single "I'd Rather Have a Love". It has that classic Joe sound. How'd it come together?
Joe: My new single "I'd Rather Have a Love" is the first installment from my new album coming July 2nd called "Double Back: The Evolution of R&B". This song wasn't written and produced by me, but it certainly represents my style and flavor. I fell in love with the song from the beginning because I felt like it was a song that certainly follows a style like "I Wanna Know", "Good Girls", "All That I Am". It has that really romantic element to it. It also speaks a lot of guys in a relationship that have a good thing going on but sometimes you know how we are. We forget what we have and we treat things a little differently. This is just a reminder basically, "I'd rather have love than nothing at all". Who wants to be alone? It's a great song.
YouKnowIGotSoul: You mentioned the new album will be called "Double Back: The Evolution of R&B". I found that title interesting. What made you come to that title?
Joe: I feel like today when you look at r&b music, it's almost like a shadow. We are sort of behind the scenes looking at everything else unfold. I want to inspire today's generation to want to become r&b artists and to want to pick up an instrument. Either a piano, guitar, drums, whatever the case may be. To bring that classic old school sound to the fore front. If it was younger people doing it the way Marvin Gaye was doing it, Barry White was doing it, Stevie Wonder, Tina Turner. They're all still great, but if we had the younger generation doing it, it would affect the younger generation a lot more. I want to be one of the ones who helps brings this awareness to the young generation. Basically take what you know and what you love singing wise, it could be hip hop or jazz, and incorporate it into your style. But if you love singing and this style of r&b, just incorporate it into what you do, that's what makes things more beautiful.
YouKnowIGotSoul: This is your 10th album now. Are you still striving for progression in your sound, or are you just trying to tap into that classic Joe sound that you've been known for?
Joe: I've been doing some different research and challenges and just trying to push myself a bit throughout the years, especially with the past 3 or 4 albums. Trying to do something different, not too different where I'm alienating my audience, but trying to do something that's a little left field that can possibly be a direction that I could take. At the end of the day, this album is certainly going back to my essence. I'm not going too far out of my zone. I love hip hop, I'm a big hip hop guy and worked with a lot of hip hop artists, so I'll have some features of that on the record as well.
YouKnowIGotSoul: Who have you worked with on this project?
Joe: I've got Fat Joe, my brother, on the record. We have history, we go back with "Still Not a Player", we're talking over 10 years ago. I've always been a big fan of his whole movement and anybody who's taken something that they've worked so hard and made an empire out of it. I have a lot of respect for people like that. This record is dope, it's a remix to the single "I'd Rather Have a Love". Too Short is on the record. I think the record was very appropriate for him, the feel and the sound, the west coast thing. Fantasia is on a record called "Love and Sex" which is going to hit home for a lot of people. It's basically the difference between the two. For now that's pretty much it, but I think it's a solid album.
YouKnowIGotSoul: How about on the writing and production side?
Joe: You know what's funny is I didn't use a whole lot of producers, I used a guy by the name of D.O.A. who's out of San Francisco. Incredible producer, he produced the single and the Fantasia record. I'm doing a lot of production myself and writing. That's what I started out as in the beginning of my career, I was a writer and producer and musician. That's what propelled me into becoming an artist; singing on the demo records. "Who is this kid singing on the records?" That was me. I'm producing a lot of the record, I'm writing a lot of the record, you'll get a feel for that old Joe thing.
YouKnowIGotSoul: This album is independent with Massenberg Media/RED Distribution. You've been independent for a few albums now. What's the biggest challenge?
Joe: I'll tell you, with an independent, everything is pretty much on you. If it's your label, you pretty much have to do everything yourself, whether it's make the record, pay everyone who plays on the record, pay everyone who's producing, you have to be the publishing company. You are the business. With Jive, they were like my concierge. I could be me without having to do it myself.
YouKnowIGotSoul: You been at this nearly two decades now since the first album came out. Where do you still find the motivation to create good music?
Joe: It comes from the fans to be honest with you. If it wasn't for an audience listening and wanting to hear it, it wouldn't happen. For me it's about having an audience that really appreciates what I do and looks forward to the next project. It's therapeutic for me at the same time because I love creating and being in the process of starting from nothing and making something incredible. I enjoy it. I also feel a responsibility for my fans because I'm a fan of music as well. I want someone to put out music that I love. I like to put it out there.
YouKnowIGotSoul: As a veteran in this industry, you've influenced so many artists. I've talked to many up and coming artists who mention you as an influence. What does it mean to you to have influenced a whole generation of r&b singers?
Joe: Wow, it's the same guy who I was. It's a blessing. I still have big influences in my life as far as artists and even new artists come out that inspire me. I'm inspired by Bruno Mars right now, I think he's a very talented young kid who has his finger on the pulse and at any moment will write the biggest record you ever heard; he's that talented. For me it makes me feel incredible, I feel great to know that I've affected some sort of soon to be artists in this industry. I can't wait to see it.
YouKnowIGotSoul: What do you feel you've got left to accomplish? You've done it all, you've been nominated for Grammy's, you can tour the world the rest of your career and live off of that. What's left?
Joe: I don't have anything left to do. I don't. If I die today, everything that I've done has been phenomenal for me. I've done everything that I ever could have imagined. It's been an incredible career for me. You look at where I started from to where I am now, very southern guy from Georgia, Alabama, who went to church with his family all of the time, who supported his family. Me being 15, 16 years old and performing, I couldn't get inside of a club because I was too young. I had to wait until it was time to perform and then as soon as I was done I'd have to leave because of rules and having a license for it. I've been through a lot of changes that started early on in my life. I've accomplished a whole lot. Don't get me wrong, I'm totally not settling with what I have, but I don't feel there's nothing else I have to do. I feel like I'm good. I've wrote an incredible chapter in my life and I'm just starting a new one. I'm owning my own business and starting a real legacy for my family; something that they can continue on. My daughter is incredible, she's very bright and intelligent. So for her at the end of the day, I want her to have something tangible to build up on and to take and move forward with.
YouKnowIGotSoul: I love to hear the history behind artists. I know you're from down south and came to New Jersey to break into the industry. What was the grind like and how'd you get your break?
Joe: Man, you're talking PATH trains late at night. Hitting Quad studios, Manhattan Center, they had a studio there. Jive Records, we're talking about you'd go in at like 2 or 3 in the afternoon and you don't leave until 10 or 11 the next morning. It was fun. I can go back. Vincent Herbert is a real good friend of mine that I've known for years. My career was started through him, he hired me as a musician and producer and a writer. So much has changed in his life.
YouKnowIGotSoul: After you got signed to Polygram/Mercury and released your debut, how'd you eventually end up at Jive?
Joe: Well I'll tell you, it was on me. Me leaving Polygram/Mercury was my decision. It was an experience because it was brand new to me. I'm coming in as this young kid from Georgia and Alabama and having the opportunity to perform in front of executives. All I knew was to perform, just do what I do. It wasn't anything like I had to put on a show. It was incredible, I felt like I was taking off at that point, they gave me a t-shirt and a hat; that was like giving me a million dollars! One thing just kept leading to another. I did the record with Mercury and it didn't really take an international approach, I didn't feel the response and the push behind it wasn't significant. I made a decision to move to Jive Records. I've had worked with Jive even before I signed to Mercury Records, I was a writer for Zomba.
YouKnowIGotSoul: Many look at the "My Name is Joe" album as your most successful and commercially it certainly did the best. What do you remember about creating that classic album?
Joe: "Stutter", "I Wanna Know", "Treat Her Like a Lady", "5-6-3". It was just me having fun and trying to create something. I was inspired by a lot of r&b singers that were coming up so I wanted to impress my peers as well. It was one of those records I wanted to impress my peers like "You heard my first album and I was trying to show you that I'm a singer, I could really do this, believe in my vocal talents." But the next record was like "Believe in me as an artist, I can really change some things, I can really motivate some things in this music world." That was my whole focus for that second album, go hard musically but not to the point where you're compromising yourself. I still loved country music, I loved rock, I loved jazz, I loved hip hop. I wanted to incorporate everything. I actually went to Nashville and wrote some songs like "All That I Am", "No One Else Comes Close" on an acoustic guitar with some country songwriters. We were sitting in a room with just guitars. We wrote in a very organic way. That was very memorable and was very key for the album. It gave it a different angle.
YouKnowIGotSoul: Anything you'd like to add?
Joe: Thanks to the fans for supporting the music and look forward to the album dropping July 2nd, "Double Back: The Evolution of R&B". All the best, God Bless you and your families.