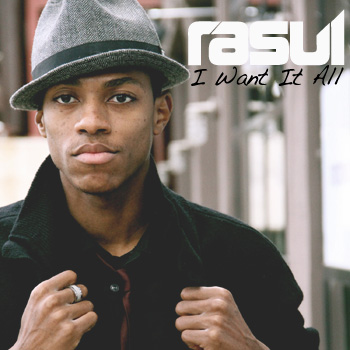 Atlanta based singer / songwriter Rasul becomes one of the year's final breakthrough acts with the release of his R&B/Pop debut single "I Want It All".
Rasul Shareef was born in East Point Georgia, a local suburb outside Atlanta Georgia. Rasul's passion for music began at the early age of two when his parents discovered he had the gift of singing. However, his gifts did not stop there Rasul grew to love the saxophone and started taking lessons at the age of 10; then later on joined the concert and marching band. Playing an instrument throughout school put Rasul at the top of his class making him scholarship bound. Growing up singing and playing instruments, Rasul found his love for music cultivate to new heights by watching musical idols, like Michael Jackson, Stevie Wonder, and Babyface. However, once Rasul found his own uniqueness in music there was no stopping him and now he is ready to show his passion to the world. There is no denying that his melodic super soothing voice has what it takes to change and inspire peoples' lives worldwide. In addition, to his dynamic singing capabilities, Rasul also loves to express himself through paper and pen.
He started writing over six years ago; he writes/composes his own lyrics/music and loves to write music about his experiences allowing him to connect to his fans. This talented singer loves to sing about music that drives and moves people through love, pain, growth, and life; good times and bad. His music will always leave you breathless. Rasul in three words is Passionate, Humble and Innovative in his craft. Rasul definitely brings a soulful integrity to the music industry.