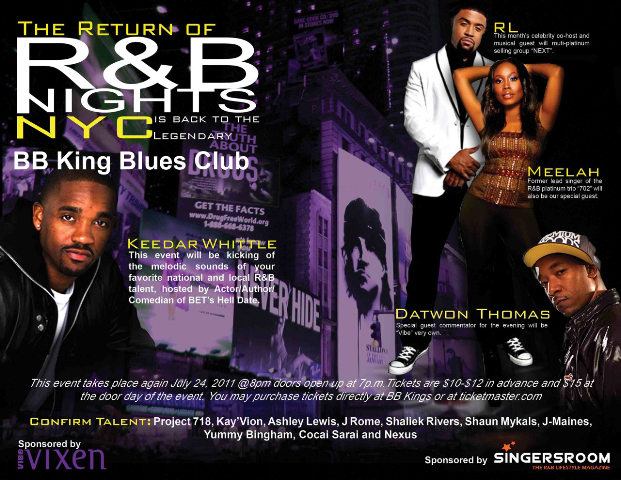 R&B Nights is back to the Legendary BB Kings Blues Club on Sunday July 24, 2011. This event will be kicking of the melodic sounds of your favorite national and local R&B talent. R&B Nights will be hosted by Actor/Author/Comedian Keedar Whittle of BET's Hell Date. This month's celebrity co-host and musical guest will be "RL"of the muti-platinum selling group "NEXT". "Meelah" former lead singer of the R&B platinum trio "702" will also be our special guest. Special guest commentator for the evening will be "Vibe" very own "Datwon Thomas"and Singersroom.
R&B Nights is excited about presenting the next great R&B Star to the world. We have had talent to come in from all over the world to show case their gifts. Everyone from Aretha Franklin to Anthony Hamilton has blessed BB Kings stage and now R&B Nights is providing the same platform for other up and coming R&B acts to follow suit.
This event takes place again July 24, 2011 @8pm doors open up at 7p.m. Tickets are $10-$12 in advance and $15 at the door day of the event. You may purchase tickets directly at BB Kings or at ticketmaster.com
If you would like to apart of the showcase send a video of your talent to TalentRnBNightsNYC@gmail.com. For Further questions contact 21Voices Entertainment offices @ (718) 576-1950 or BB Kings direct @212-997-4144.