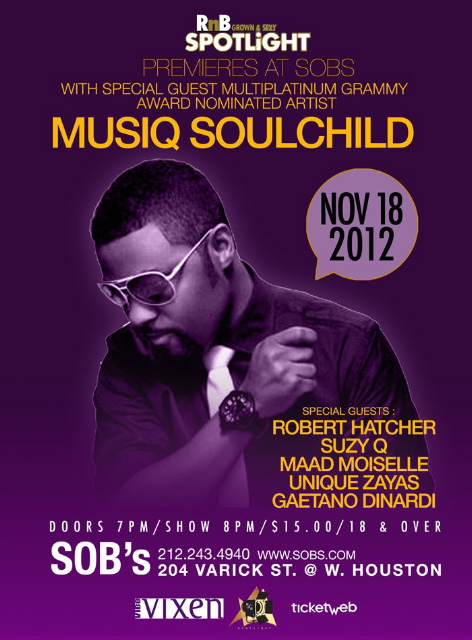 NEW YORK, NY — RnB Spotlight, an exclusive "live" showcase of favorite national and local R&B artists, fusing old and new school flavors, will return November 18, 2012, featuring Grammy nominated R&B crooner, Musiq soulchild. Chart-topping superstars have headlined past shows including S.W.V, R.L. of 90's R&B group, Next; Meelah of 702, and Sisqo, lead singer of multi-platinum group Dru Hill.
The purpose of RnB Spotlight is to open the curtain of opportunity for the next superstar to be discovered. Amateurs are given a "platform" to showcase their talents and gain local and national exposure in the R&B community. The event is streamed live for the world to see, thus expanding the audience beyond the walls of the venue.
"We hope that by inviting national acts, we'll inspire up and coming artists to pursue their dreams," RnB Spotlight founder Cory Taylor stated.
The monthly event will relocate all future shows to the "home of universal music" in SoHo, an eclectic venue, S.O.B's, also known as Sounds of Brazil. This highly sought after "live" music venue has earned the reputation as one of the trendiest "live" music venues in the city.
If you would like to be a part of our showcase please send a live video performance of your talent to TalentRnBSpotlight@gmail.com . For Further questions contact 21Voices Entertainment offices @ (718) 576-1950. Doors open at 7 p.m. show starts at 8 p.m. Tickets are $10 dollars in advance and $15 day of the event. Tickets may be purchased directly at SOBs at www.sobs.com.