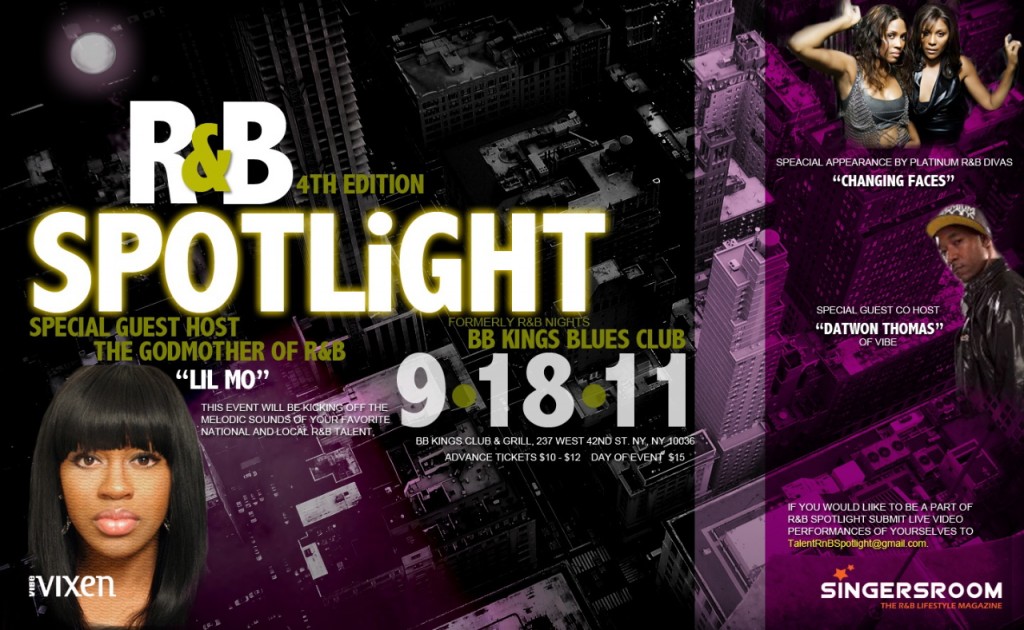 R&B Spotlight -formerly known as R&B Nights, is back to the Legendary BB King's Blues, & Grill located in the heart of Times Square, Sunday, September 18, 2011. This event will be kicking of the melodic sounds of your favorite national and local R&B talent each month. Our special guest host this month
is "Lil' Mo" The God Mother of R&B! Also "R&B platinum divas "Changing Faces"
Over the years, Chart-topping superstars such as the Queen of Soul, Aretha Franklin, soulful crooner Anthony Hamiliton, and 90's trio SWV have headlined shows at the venue. R&B Spotlight opens the curtain
of opportunity for the next superstar to be discovered by allowing rising artist to showcase their talents to gain local and national exposure in the R&B community.
"We hope that by inviting national acts, we'll inspire up and coming artists to pursue their dreams," 21Voices' Cory Taylor stated.
Doors open at 8 p.m. show starts at 9 p.m. Tickets ranges between $10-12 dollars in advance and $15 day of the event. Tickets may be purchased directly at BB Kings or at Ticketmaster.com
If you would like to be a part of our showcase please send a live video of your talent to TalentRnBSpotlight@gmail.com . For Further questions contact 21Voices Entertainment offices @ (718) 576-1950 or BB King's direct @212-997-4144
VIBE and SINGERSROOM are the official media sponsors for R&B Spotlight.