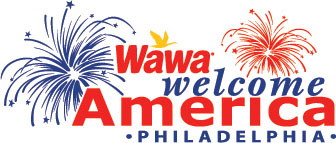 Once again, Philadelphia is celebrating the nation's birthday in style by putting on "The Largest Free Concert in America," as part of the Wawa Welcome America! festival. The Philly 4th of July Jam will feature a number of top musical artists, including: The Roots, John Mayer, Jill Scott, Demi Lovato, Ne-Yo, Grace Potter and J. Cole, along with Ben Taylor and other surprise guests. An additional performance by Marsha Ambrosius will take place on July 6 during the Taste of Philadelphia.
"The City of Philadelphia is proud to welcome an incredibly talented group of musicians to our city this Fourth of July," said Philadelphia's Mayor, Micheal A. Nutter. "We believe that this year's festival will go down in history as the best yet. We know that Philadelphia is the foremost place to celebrate our nation's birthday. With this superb lineup of talent, we have an opportunity to prove it to the world."
Formed in Philadelphia in 1987, The Roots will return as the house band for the Philly 4th of July Jam. This year's guest artists will join The Roots on stage in a series of nonstop, electrifying performances.
John Mayer is one of few musicians to achieve both critical acclaim and popular appeal. A seven-time Grammy Award winner, Mayer has earned accolades for each album release while selling more than 20 million albums worldwide. Known as a musician who defies genre boundaries, he has collaborated with a range of artists, including Eric Clapton, B.B. King, The Rolling Stones, Jay-Z and Alicia Keys. His most recent album—Born and Raised—is nearing platinum and he kicks off his first tour in three years on July 6 in Milwaukee, WI.
After launching her career through several projects with the Disney Channel, Demi Lovato made a smooth transition into the world of Pop music before she even turned 20. With three successful albums under her belt and a fourth on the way, Lovato is a force to be reckoned with. In 2012, Demi was hired as a judge for the second season of the American version of The X Factor, and it has been confirmed that she will return for the show's third season. "Heart Attack," the lead single from her upcoming album, Demi, sold more than 500,000 copies and was certified Gold in just four weeks! Demi is scheduled to be released on May 14.
Jill Scott, a Philadelphia native and accomplished R&B songstress, has filled the airwaves with her music for more than a decade. With four studio albums and several Grammy, she has proven that she is here to stay. Scott has also been seen recently on HBO's Number One Ladies Detective Agency, Lifetime's Steel Magnolias, and numerous other film and TV projects.
A Grammy Award winning singer, songwriter, composer, and producer, Ne-Yo is one of the most talented artists in music today. With tracks such as "Give Me Everything" and "Let Me Love You," Ne-Yo continues to dominate the Pop and R&B charts. When the R&B superstar isn't recording platinum albums and Top 10 singles of his own, he lends his talents to others in the industry. For years, Ne-Yo has penned hits for Pop's biggest stars, including Beyoncé, Rihanna, Usher and others.
When Grace Potter began performing with her band Grace Potter and the Nocturnals in 2002, they were self-producing albums and touring extensively on the festival circuit, sometimes doing more than 200 shows a year. Today, the Vermont-based band has taken its place among music industry peers, creating critically acclaimed albums and having their music featured on hit TV shows like The Voice and The X Factor. Grace's unique voice has landed her numerous comparisons to legendary rock blues singers such as Janis Joplin.
J. Cole, the first artist to sign to Jay Z's Roc Nation label, is one of the most successful emerging hip-hop artists in the game today. After releasing several successful mixtapes on his own, the young rapper's long-awaited debut album, Cole World: The Sideline Story, debuted at Number 1 on the Billboard Top 200 charts, and sold more than 200,000 copies in the first week. J. Cole also received a nomination for Best New Artist at the Grammy Awards in 2012.
Ben Taylor, the son of legendary folk rock artists James Taylor and Carly Simon, is currently on tour promoting his album Listening – his first in four years. After self-producing his music for more than a decade, Listening is Taylor's first album with Iris Records.
"We are excited to be back celebrating the Fourth of July in our hometown and we can't wait to put on another great show for everyone on the Parkway this year," said The Roots' Ahmir "?uestlove" Thompson. "These artists, who represent a variety of genres, are a perfect fit for the eclectic musical community that can be found in Philadelphia."
This year, Wawa Welcome America! is giving festival attendees more reasons to celebrate with free events and performances extending past the Fourth of July. One of those performances will be that of Marsha Ambrosius, who will fill Penn's Landing with the sounds of her soulful music on Saturday, July 6, followed by the Adventure Aquarium Waterfront Fireworks Spectacular. Ambrosius, who made a name for herself as a member of the duo Floetry, released her first solo album, Late Nights & Early Mornings in 2011. The album debuted at Number 1 on the Billboard R&B charts, and its second single, "Far Away," landed her two Grammy nominations.
"Wawa Welcome America! is looking forward to putting on another outstanding festival this year," said Desiree Peterkin-Bell, City Representative and Executive Director of Welcome America, Inc. "We are determined to provide our guests with the best possible experience during this 20th anniversary year, and we believe that the musical talent secured for this year's festival will help us achieve just that."
Additional details about Wawa Welcome America!'s musical performances, including local acts that will be a part of the festivities, will be available online closer to the start of the festival.
Wawa Welcome America! is a multi-day festival that celebrates America's birthday in America's birthplace, Philadelphia. In 2013, Welcome America, Inc. is proud to celebrate 20 years as the producer of Philadelphia's Fourth of July festival. For more information, please visit www.welcomeamerica.com, like us on Facebook at www.facebook.com/wawawelcomeamerica and follow us on Twitter at @July4thPhilly.