Amel Larrieux Unveils Tracklisting for Hotly Anticipated Album "Ice Cream Everyday" Out August 27th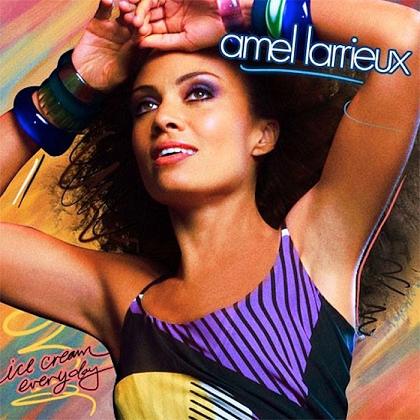 Grammy nominated songstress Amel Larrieux has unveiled the full tracklisting for her long-awaited fifth studio album ICE CREAM EVERYDAY, set for release on August 27, 2013 via Blisslife Records. (Scroll down to view) The physical album is currently available for pre-order through August 5th on her official website: http://bit.ly/13dBEFi
Last month, Amel received unanimously praise for the album's lead single "Afraid". Produced by her longtime collaborator and husband Laru Larrieux, the track is a fresh neo-soul groove in the tradition of fan-favorites such as "Get Up", "For Real", and "All I Got":
As of last week, "Afraid" became the number one most added song in the country at Urban AC radio. The single is currently available for digital download at the iTunes music store here: https://itunes.apple.com/us/album/afraid-single/id658345813
Amel Larrieux is a widely acclaimed urban chanteuse who first rose to fame in the mid-1990s as a founding member of the duo Groove Theory, along with Brian Wilson. As lead singer and co-writer for the group, she achieved worldwide success with the smash hit "Tell Me", which broke the top ten on the Billboard Hot 100 chart and the top five on R&B charts, before being certified gold in October 1995. She released her solo debut album Infinite Possibilities on Epic Records, before venturing out to launch her own independent label in collaboration with husband/producer Laru Larrieux — Blisslife Records, on which she has released two R&B Billboard chart-topping albums BRAVEBIRD and MORNING. After over selling two million albums worldwide, Amel returns to the spotlight with ICE CREAM EVERYDAY, her first proper studio album in seven years.

ICE CREAM EVERYDAY – OFFICIAL TRACKLISTING
1. Afraid
2. I Do Take
3. You Don't See Me
4. A Million Sapphires
5. Ur the Shhh
6. Berries and Cream
7. Danger
8. Moment to Reflect
9. Have You
10. Orange Glow
11. See Where You Are
12. Don't Let Me Down
13. Trapped Being Human
14. I Do Take 2
15. Soon
16. Danger 2
Tagged:
Amel Larrieux