New Music: Cherlise "Love You Right" featuring Lil' Wayne (Produced by Rico Love)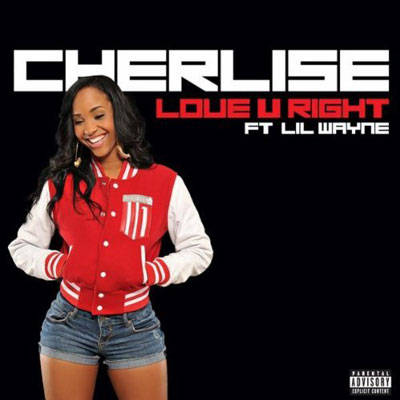 As one of ten children, Cherlise learned early on the importance of standing out. Born in Carol City, Fl, Cherlise developed her interest in music at a very early age, and quickly learned the influence her voice had on others. "I would close my eyes and sing, and when I was finished, people would be crying. I didn't understand it but I loved it", says Cherlise. She began writing songs at the age of 13 and recorded her first record when she was only 14 years old. From the moment she listened to the sound of her voice through the speakers for the first time, she knew she found her calling.
Whether through song or her magnetic personality, Cherlise has proven to be more than just a pretty face. After seizing any and every opportunity to showcase her smooth, soulful voice, it was not long before this soprano became a favorite of many South Florida audiences. She jumped at the chance to open for Bobby Valentino and Ludacris, and with her sexy, rhythmic moves coupled with her powerful voice, she owned the stage like a pro, proving she could hang with the already established.
Cherlise did whatever it took to keep moving towards her goal of becoming a household name. "I would clean the local studios for free recording time. That's how I put together my demo. I was so hungry", says Cherlise. Her hard work and dedication would soon pay off. Two years later, she was discovered by her current manager, Percy, on the video set of hip-hop veteran, Fat Joe. Cherlise finally got the break she had been waiting for when he introduced her to multi-platinum songwriter/producer Rico Love. "An artist like Cherlise comes around once every ten years. Lucky for her, she has the opportunity to work with one of the greatest songwriters in the world", says Joe. Love and Cherlise worked diligently over the next two years, and when Love closed his deal with Universal Motown/Universal Republic Records for his Division1 imprint, he signed Cherlise. "Rico is great at what he does, when you are working with someone who has had that kind of success and works that hard, it makes you work that much harder," Cherlise explains. "He's already at the top and he doesn't sleep, so I don't sleep. It's a great fit for me."
Citing her musical influences as Whitney Houston, Michael Jackson, Mariah Carey, Ce Ce Winans, Brandy, and Beyonce, Cherlise is destined to become a household name. With a sexiness that captivates the eyes of her fans, hypnotizing voice, and girl next door charm, one should expect all of their senses to be engaged. "I want to be more than a singer. I want to be a pioneer, a true entertainer." When asked, "Who is Cherlise?," she responds, "Brace yourself, the answer may very well surprise you."
Tagged:
Cherlise
Lil Wayne
Rico Love