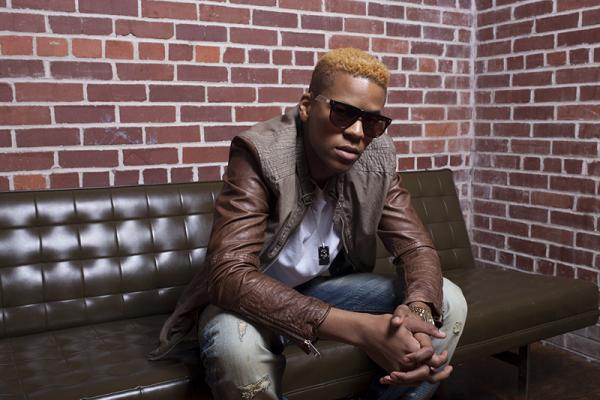 The world has a funny way of complementing itself. What begins, must end; when one thing ends, another inevitably rises. It's this understanding of connectivity, and interdependence of us all upon one another, that twenty-five year old singer Curtis Fields channels his inspiration – everything happens for a reason, we just all have to hold up our end of the bargain.
Born in Montgomery, Alabama, the son of a preacher father and a teacher mother, Curtis Fields spent his formative years as a rolling stone – traveling from city to city, with stops in Birmingham, Little Rock, and, eventually, Nashville. After enrolling in Fisk University, Curtis joined up with the Fisk Jubilee Singers, and traveled the world, bringing his soothing voice to please fans in places as far-ranging as Africa, India, and Spain.
All the talent in the world, though, didn't help pay the bills. Back from touring, Curtis faced a crossroads in his life. He had a dream, but no money, and no resources – all the talent in the world, but no way to showcase it. Ironically, it was own resourcefulness that gave him his first big break. He began making music – with his iPhone.
"I close my eyes, and I visualize," he says, almost trance-like. "My senses go into overdrive, I sing from my heart." What separates Curtis from his peers – and from all other artists, period – is his ability to create a song, an album, or even a show – directly from his iPhone. Born out of necessity, he used whatever apps were available to him, and composed entire catalogues of soul-stirring music. It's the perfect combination to soul and technology; old-school heart with new-school thought.
Citing influences as far-ranging as Usher, Tank, Blink 182, No Doubt (and an amusing anecdote about the first song he ever covered, Donell Jones' "Where I Wanna Be"), Curtis' understanding of music is fueled by his innate, analytical ability. "I'm really into figuring out how things work, man. Why do things happen?"
The answer came in the way of a Donny Hathaway record, aired during a television show, one special afternoon. An inspiration, an influence, and an answer, all came from that one fateful listen. "His emotion with the music, to the music, and through the music…it wasn't the timing, or the pitch, or anything technical – you felt Donny Hathaway." Mixing the raw emotion of Donny Hathaway, and the intricacies he learned as a student at Nashville's Fisk University, Curtis Fields creates music that is at once emotive as it is accepting – from him, to you.
Curtis' discovery came at the New Skool Rules auditions at SAE Atlanta. Competing with over 200 singers, producers, and rappers, Curtis Fields blew away all the judges, including Ray Daniels (Raydar), who personally took Curtis' career from the iPhone to the big stage. Henca Maduro, CEO of New Skool Rules offered lavish praise rarely bestowed on such a new act: "From the moment he opened his mouth, I knew something amazing was going to happen. This type of talent is the reason we do what we do."
The perfect blend of soul-searching and emotion, Curtis' songs are crisp, clean, and, most importantly – you can feel them. His struggle, though, is what drives his success. From a virtual unknown to the music's next superstar, Curtis Fields has come a great way. Industry executive Ray Daniels kept his word, and, pretty soon, Curtis was heavily courted by several labels, and played personally for industry heavyweights Jimmy Iovine and L.A. Reid. "My iphone SAVED me, man. I plugged it in, and I sang. I sang my heart out. I'm fortunate enough to be here today, and it's almost unbelievable that I am."
Today, Curtis Fields is signed to Epic Records, and working on his debut album – in a real studio, with real musicians, and real instruments. Curtis Fields finally has the tools to showcase his talent, and the world better get ready.