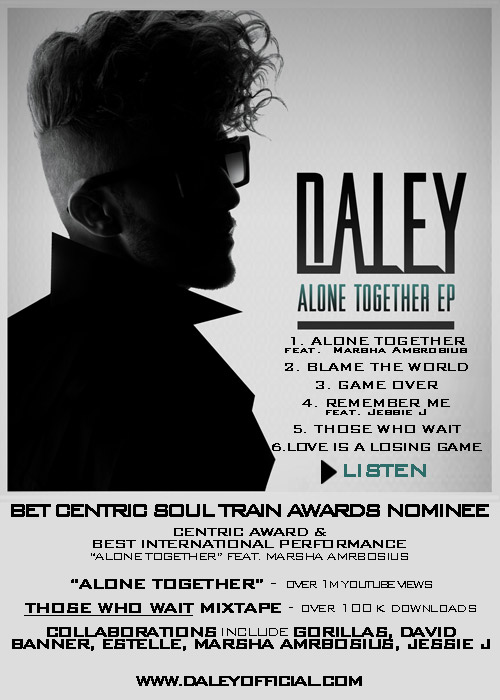 US SINGLE "ALONE TOGETHER" TOP 15 @ RADIO AND CLIMBING!

VIDEO FOR UK SINGLE "REMEMBER ME" FEATURING JESSIE J TO DEBUT ON VEVO SOON

NOMINATED FOR 2 SOUL TRAIN AWARDS
NEW YORK, NY —UK singer, songwriter, and performer DALEY unveils his six-song debut EP for Republic Records, Alone Together, on November 6 through iTunes and other retailers. Channeling invigorating soul, slick R&B, soaring pop, and enthralling ambient styling's, he has a sound that's worth spending serious time with.
The first single stateside, "Alone Together," features a cameo from critically-acclaimed R&B singer Marsha Ambrosious, and it boasts a slow, sultry beat. DALEY carries the melody with true soul and infectious charisma, illuminating how dynamic his voice is.
Meanwhile, Daley's UK single "Remember Me" is a fiery duet with label mate, 4x-platinum superstar and BRIT-Award winner, JESSIE J. A funky bass line and propulsive handclaps weave throughout the song as DALEY's soulful delivery reaches impressive heights in tandem with the diva's. The track is a gem that you'll instantly want to "remember" as soon as you hear it. The duo recently shot the video for "Remember Me" in LA, and the stand out clip can be seen now on VEVO.
Given that individual flare and undeniable talent, it's no surprise that he's nominated in two categories at the 2012 Soul Train Awards—the "Centric Award" for Best International Performance and their overall award "Best Outstanding Artist" for the EP's title track. DALEY will be attending the show on November 8th at Planet Hollywood in Las Vegas later this month.
Across the pond, DALEY is already something of an online phenomenon. He recently became the number one "Most Shared Act" on the BBC's 1Xtra Live home page, and he's currently blowing up Twitter in the UK as "#rememberme" reached number two on the site's trending topics.
DALEY is on his way to becoming a global star in his own right, and his journey commences with Alone Together.