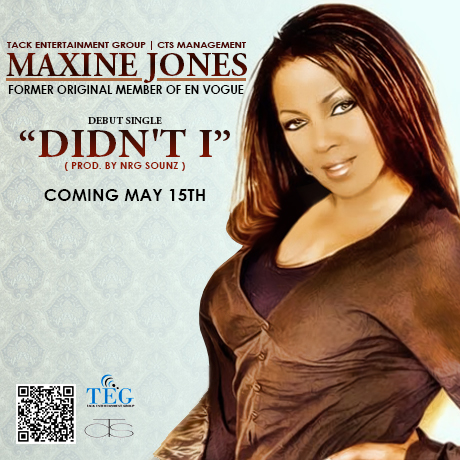 We are pleased to announce that Maxine Jones (original member of the multi-platinum selling group En Vogue) is releasing her debut single entitled "Didn't I "produced by NRG Sounz. This highly anticipated release is scheduled for May of 2014.
"To The Max" the world tour is projected to take place in 2014. It will be a breathe taking experience, with the amazing vocals of Maxine Jones and supporting acts. Fans will be entertained with a live performance of her brand new material and fan favorites.
As a member of En Vogue, Maxine was credited as the member with the "Motown" voice. It seemed as perfect reasoning, since she stated in many interviews that her musical influences: Aretha Franklin, Chaka Khan, Patti Labelle, Tina Turner, and Gladys Knight all had musical careers although some were not Motown artists. Maxine has a wide vocal range, spanning between 3-5 octaves, which made her quite versatile within the group.
In July 2012 she left the group En Vogue, since then her talents, drive and motivation has driven her to this point. And the upcoming projects are sure to prove that. After years of continued success in the music industry Maxine Jones is launching her solo career. Her millions of fans have been waiting on this day for years.