Interview: Tamia Talks New Album "Love Life", Recording it in 10 Days, Keeping Her Music Classy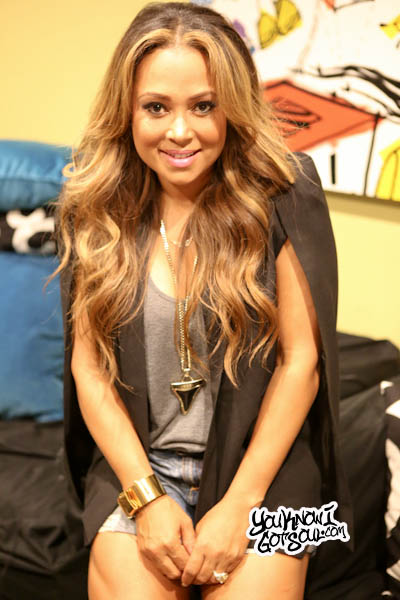 When Tamia signed with Def Jam and "Sandwich and a Soda" released, many were left wondering if the bouncy, progressive r&b record would serve as a hint in the direction of her new album "Love Life". However, with the release of the album, we see that Tamia really took things to another level overall; keeping her trademark Tamia vocals and sound, and mixing it with some progressive r&b vibes. The results are one of the best r&b albums in 2015 to date, and clearly some of Tamia's best work. Already treasured as one of the best in her generation, "Love Life" solidifies her legendary status and leaves us with a great body of work as she continues her journey. YouKnowIGotSoul sat down with Tamia at a promo event for her album release last week and discussed how she made "Love Life" some of her best work, recording the album in 10 days, keeping the music sexy but classy, and more.‎

YouKnowIGotSoul: We think your new album "Love Life" is one of the best R&B albums this year. It sounds like trademark Tamia, but you brought on some progressive sounds. What did you try to do sonically with the project?
Tamia: I think it's important that you grow as an artist. It should sound more progressive. Years have gone by and I've matured along with my voice. It's important as an artist to try new things and work with different people as well. Polow Da Don is heavy hitting Hip Hop/R&B and my voice is soft and sweet. On a song like "Stuck with Me", it works well and the only way you know it works is if you try it. Even if you look at the album artwork, it's reminiscent of the first album on purpose because I feel like after 20 years in the business and it being my sixth album, I feel like it's a full circle moment. I feel as much momentum with this as the first one and I feel as proud of this project as I did with the last one and with the beginning one. The first one, you're coming into the game fresh and green and now just being more seasoned. Hopefully "Love Life" is like that as well. To me, it sounds more confident and self-assured. The sound is just more grown for me.
YouKnowIGotSoul: I read it only took you ten days to record this album. How did that happen?
Tamia: It did. I went to Atlanta and I had two studios going at once and I guess something happened in the atmosphere. Songs were just coming out. I was really there to just write and we would only record the songs we liked. When we were writing, we liked them so we recorded them. *Laughs* When it felt like we were finished, I was like "I think this project is done". I could have recorded 15 other songs, but this project felt finished to me. It felt weird to say that after ten days. I went home and told my husband that I thought I was finished the project and he was like "Well Jay-Z did 'The Blueprint' in a weekend". When you know it's finished, you'll know.
YouKnowIGotSoul: Lyrically it's some of your most sensual work but you kept it classy. What was the inspiration behind the lyrics?
Tamia: It's just about confidence. I think there's a confidence in saying some of the lyrics. It's just growth really.
YouKnowIGotSoul: You returned to a major label situation for this project after being independent for the last couple of albums. What kind of opportunities were presented to you at Def Jam?
Tamia: I actually have the best of both worlds because we're in a joint venture. It's my company along with Def Jam. I went and had the meeting and I was still on the fence. I wasn't sure about signing with Def Jam. I went in and they were like "We don't want to change you. We want you to continue doing exactly what you've been doing. We just want to help you with our big machine". At the end of the day, a major label is still a major label. Certainly I would not change doing those albums independently. At the time, I needed to do that even for more my own confidence. I learned so much and even now as an artist and working with Def Jam, I can look at it from both aspects. I understand the business a lot more now than before.
YouKnowIGotSoul: You went with "Stuck with Me" as the second single. What made you go with that?
Tamia: Picking singles is always an interesting thing for me because you're connected to certain songs for a certain reason. I wanted to come out with "Sandwich and A Soda" first because I thought it was fun. Lyrically it was fun and I'm still singing on it. Of course it isn't "Stranger In My House" but it was a great progression for me. "Stuck with Me" took me back to that "Officially Missing You" thing. It just felt good to me and there's a group of people that I consult and we all felt the same way about that song. There's nothing really solid that you do to choose a single. It's all based on feeling. I also think "Okay, how will I feel singing this all the time? This is the next single. How can I pull this off? What's the look I want to go for? If I pull out a fast song, do I have to dance?"
YouKnowIGotSoul: Anything you'd like to add?
Tamia: I want to thank you guys for the continued support. I really appreciate it. I would not be sitting here without you guys supporting me when no one else was there. You guys were there and I thank you so much for that.
Tagged:
Tamia