Interview: Jazmine Sullivan Talks New Album, Pressures Of Music Industry & Reality TV Influence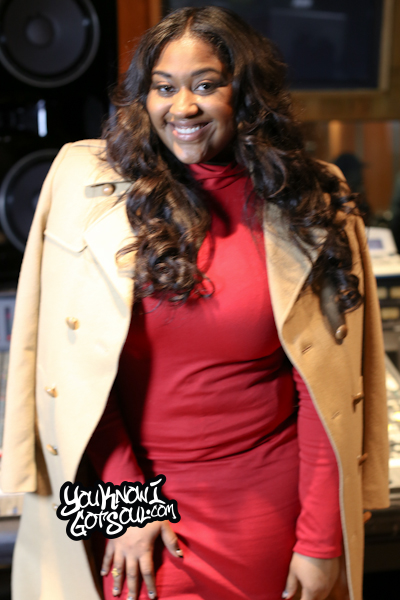 There was much anticipation around the return of Jazmine Sullivan after her self imposed hiatus from the industry, and she certainly lived up to the hype with the release of "Reality Show". An ambitious effort that gets conceptual at times based on her love for reality TV, she managed to set herself apart as great storyteller through her music. Luckily for r&b fans, Jazmine was able to overcome the pressures of the music industry, but her career is just an example of how difficult artists can have it. YouKnowIGotSoul sat down with Jazmine at the press listening event for her "Reality Show" album and discussed the project, how reality TV influenced it, responding to the pressures of the music industry, and much more.
YouKnowIGotSoul: Your new album "Reality Show" dropped recently. You got conceptual at times on there. Talk about the direction of the album and if that was a challenge.
Jazmine Sullivan: It wasn't a challenge. I think I have a natural knack for telling stories. My mom was a play writer so I grew up watching her create these characters. I don't know if I necessarily made it to be like that, but it just naturally happened where I was just telling stories on the album.
YouKnowIGotSoul: What's the feedback been on the song "Mascara" since it has such a powerful message? were you worried people wouldn't get it?
Jazmine Sullivan: I was worried, but I've read feedback on it and 95% of the people listened to it got the message. People get it, so I'm not concerned.
YouKnowIGotSoul: Did you feel the pressure after being gone for so long?
Jazmine Sullivan: I pressured myself. *Laughs* I definitely felt the pressure, but I just do what I do and hope people like it.
YouKnowIGotSoul: What about the pressures of the music industry? Fans sometimes only see the glitz and glamour, but talk about the pressures of being an artist.
Jazmine Sullivan: You always have to be on like the song "Mascara" says. You have to be happy when you're sad and that's a lot. I think I'm learning to deal with it now the older that I get. I'm just learning to deal with it because this is something I love to do. The art of it is something that I love to do. There are certain things that go along with it that I have to take. Also the pressure to be perfect and that's not just necessarily in the industry. There's pressure in society to be perfect and that weighs on all of us. I don't feel too alone in the struggle.
YouKnowIGotSoul: How did you know it was the right time to return after your hiatuss?
Jazmine Sullivan: I was just sitting around. I was like "I need to put this stuff on paper and get it out". Having experienced what I've experienced, it's kind of my duty to talk about it and maybe possibly help some other people who are going through it.
YouKnowIGotSoul: Talk about R&B artists using reality TV as an outlet. How have you seen them be able to do it?
Jazmine Sullivan: I think it's cool that people are able to show other people their lives and get more of a fanbase. I don't think it's necessarily an outlet that I would use because I'm pretty private. I think it's cool to see your favorite artist and what they're going through now.
YouKnowIGotSoul: What current artists influence you?
Jazmine Sullivan: Currently I don't listen to anything except for my songs over and over again. I'm obsessing on different things like "I could have done this or that". Before I started on the album, I loved Frank Ocean's project and I love Lana Del Ray. I love the new artists that are coming out and doing different things.
YouKnowIGotSoul: Do you believe monogamy is possible?
Jazmine Sullivan: I know I write a lot about love but I'm still trying to figure out love and relationships. A lot of me writing about it is because I'm trying to figure it out. I don't know if you can love two people equally. I don't know that. I haven't seen that. If somebody did love two people, they always loved one person a little more. I think monogamy is possible if you want to live with that. I think you can do it.
YouKnowIGotSoul: Anything you'd like to add?
Jazmine Sullivan: I'm really proud of this work and I think it's a work of art. I want people to listen to it with a creative and open mind. Listen to the lyrics and stories.
Tagged:
Jazmine Sullivan