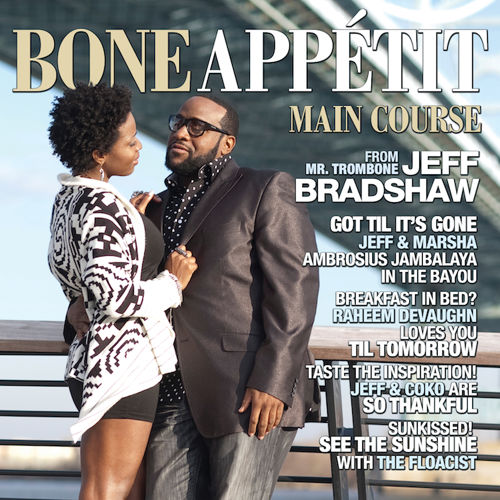 Norman "Jeff" Bradshaw, musician, recording artist, family man, the trombonist extraordinaire with a charismatic and larger than life personality, will release a delicious buffet of musical delights—his long-awaited sophomore album, aptly titled Bone Appetit (April 24, 2012 – Hidden Beach).
A 20 song-collection in two volumes of what Bradshaw describes as Soul-Jazz with R&B connotations, Bone Appetit features nearly a dozen guest appearances by some of Jeff's many friends like Raheem DeVaughn, Marsha Ambrosius, Kindred the Family Soul, Maysa Leak, Coko of SWV, musician/producer PJ Morton of Maroon 5, Hip-Hop diva Ms. Jade, Christian rapper TWyze, and female MC Natalie "The Floacist." Co-Executive Produced by Bradshaw himself and Hidden Beach CEO Steve McKeever. Producers for the album include Adam Blackstone, Dan "Dilemma" Thomas, Mitch "Catalyst" Cohn, Rayfield "Ray Ray" Holloman, and Pete Kuzma (Jill Scott's former music director).
Bone Appetit gives consumers the option to purchase digitally in two volumes (iTunes, Amazon) or as one 2-CD set. First up is Bone Appetit Vol. 1 – Main Course, which features 13 songs and interludes, followed by Bone Appetit Vol. 2- Deuxieme Cours, a splendid 7 song EP. For fans desiring a full palette of Bradshaw, both volumes are combined in a deluxe 2-CD configuration, titled Bone Appetit – Double Issue. Either way, there is plenty of Jeff Bradshaw to satisfy.