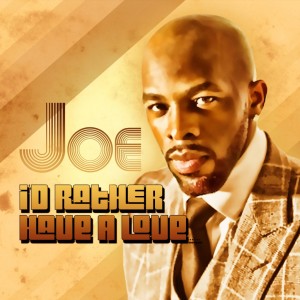 Multi-platinum selling R&B singer-songwriter Joe announces the release of his new single "I'd Rather Have A Love. The song impacts Urban AC radio on March 19 and is available for download at iTunes today.
"I'd Rather Have A Love is the first single from Joe's forthcoming album which will be released in early summer 2013 via the newly-formed Massenburg Media with RED Distribution, helmed by industry heavyweight Kedar Massenburg. Joe is shooting an official music video for "I'd Rather Have A Love" in the coming weeks with renowned music video and film director Bille Woodruff.
Over the course of his successful 15+ career, Joe has received numerous accolades including Grammy nominations for his 3x platinum album My Name Is Joe, and for his stunning vocal performance on the lead single "I Wanna Know." Joe's breakthrough album All That I Am featuring "Don't Wanna Be A Player," "The Love Scene," and "All The Things Your Man Won't Do" reached #13 on the Billboard 200 chart and is certified platinum. Joe's last three albums were released independently and each debuted at #1 on Billboard's Top Independent Chart. His most recent 2011 independent release entitled The Good, The Bad, The Sexy debuted at #8 on the Billboard 200 and #2 on the Hot R&B/Hip Hop albums chart.