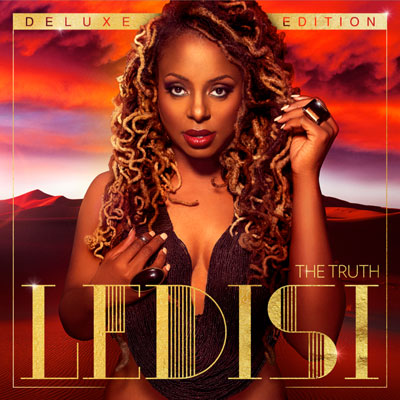 Grammy-nominated powerhouse Ledisi will hit the road this spring on a 30-city tour titled after her upcoming new album, The Truth, which is in stores March 11. The tour, which has partnered with ESSENCE as a media partner, will stop in major markets across the US and Canada starting in Jacksonville, FL on April 16 and concluding in Sacramento, CA on May 25. Other major stops include New York's famous Beacon Theatre, Club Nokia (Los Angeles), Chicago Theatre (Chicago), Detroit Opera House (Detroit), Danforth Music Hall (Toranto) and Chastain Park (Atlanta). Opening up for Ledisi will be The Robert Glasper Experience. In addition, for every pair of tickets purchased fans will receive free download of the album to redeem on release day as well asthose who purchase tickets will receive a one year subscription to ESSENCE. For information on purchasing tickets, check your local market for sale dates.
"I am so excited about this tour because I have so many surprises for my fans. The whole show has been created to reflect the Truth about me," gushes Ledisi. "I feel like I've come full circle. I can't wait to sing, dance and share my joy with my audience."
While on tour, Ledisi will perform her new single "I Blame You," which is surging up the charts and is a hit on the Urban AC charts. USA Today calls it "A breezy-smooth rush of pop-soul nostalgia." She will also perform fan favorites such as "Pieces of Me," "Alright," and "Goin' Thru Changes," and more.
To add to the excitement of her anticipated album release, Ledisi will also be featured on the main stage at the 20th annual ESSENCE Festival in New Orleans, LA July 4th Weekend, where she will share the stage with Prince, Mary J. Blige, Lionel Richie and more!
For more information on Ledisi and updated tour dates, please visit www.ledisi.com or follow her on twitter and instagram at @ledisi.
April 16 Jacksonville, FL Florida Theatre
April 17 Mobile, AL Saenger Theatre
April 18 Memphis, TN Orpheum Theater
April 19 Indianapolis, IN Murat Theatre
April 22 Toledo, OH Stranahan Theater
April 24 Detroit, MI Detroit Opera House
April 25 Chicago, IL Chicago Theatre
April 26 Louisville, KY Palace Theatre
April 27 Cleveland, OH HOB Cleveland
April 28 Toronto, ON Danforth Music Hall
April 30 New York, NY The Beacon Theatre
May 1 Philadelphia, PA Tower Theatre
May 2 Norfolk, VA Chysler Hall
May 3 Washington, D.C. DAR Constitution Hall (No RGE)
May 4 Baltimore, MD Pier 6 Pavillion
May 6 Durham, NC Durham PAC
May 8 Charlotte, NC The Fillmore
May 9 Atlanta, GA Chastain Park Amphitheatre
May 10 St. Louis, MO The Pageant (No RGE)
May 11 Nashville, TN War Memorial Auditorium (No RGE)
May 13 Kansas City, MO Midland
May 14 Dallas, TX Majestic Theatre
May 16 Houston, TX Bayou Music Center
May 17 Austin, TX ACL Live
May 21 San Francisco, CA Warfield Theatre
May 22 Los Angeles, CA Club Nokia
May 23 Las Vegas, NV HOB Las Vegas
May 24 San Diego, CA San Diego Jazz Festival
May 25 Sacramento, CA Woodlake Inn