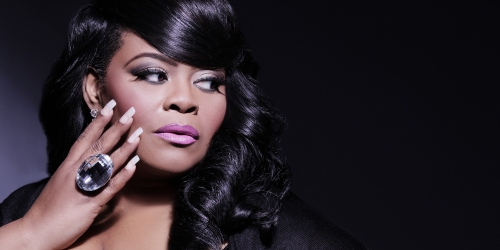 Maysa is the kind of singer who takes hold of a song and enraptures her audience in the palm of her hands, as she delivers lyrics, phrases, melodies and harmonies in a way that only she can. Blessed with an instantly identifiable honey-toned mezzo-soprano and an undeniably brilliant and magnetic stage presence, Maysa's alluring vocals, candor, humor and purity as an artist make her a rarity in this business. Having collaborated with everyone from Stevie Wonder and Chaka Khan to Incognito and Angela Bofill, Maysa can hang with the best. It is no wonder she is the recipient of Soul Train's "Soul Approved Underground Singer" Award. On June 18, 2013, the Baltimore native will release her tenth recording as a leader and sixth for Shanachie Entertainment, Blue Velvet Soul. " I hope the people who have been supportive of me through the years will enjoy this new music. That is all I can ask for!"
With the recent resurgence of soul singers, Maysa's organic, down-home, jazzy and bluesy approach is the essence of what people have been searching for. She is authentic and music is her truth. "I am a storyteller, a counselor and a friend that helps others through the good times and bad through my music. It's important for me to connect with the audience because it's my God given job." Blue Velvet Soul features several reinventions of several familiar classics including the Johnny Hammond composition "Quiet Fire," inspired by Nancy Wilson's version. A special highlight on the new CD is Maysa's gift as a composer. Eight of the album's tracks feature originals and in true Maysa no holds barred fashion, she pours her heart and soul into every note. Blue Velvet Soul includes the uplifting duet with friend Bluey from Incognito, "Good Morning Sunrise," the sultry "Sophisticated Lover," where Maysa woos us in the language of love and the sublime meditation Maysa wrote for herself "Inside My Dream." The past year has been a difficult one as Maysa lost her dearest friend, her mother. "She made me promise to keep going no matter what," shares the singer. "I was able to continue with my live shows in almost a robotic state but when it came time to create. I was lost. I finished this record with God's help and a little help from my friends.
Maysa Leak was born and raised in Baltimore, MD and knew by the time she was six that she would be a musician. "I was six years old when my mom took me to see Purlie. When Melba Moore came on stage and sang her heart out, I knew at that moment I wanted to make people feel the way she made me feel." Maysa graduated from Morgan State University with a degree in classical performance, meeting Stevie Wonder while a student. Upon graduating, she moved to North Hollywood to join Stevie Wonder's "Wonderlove," with whom she performed for a year, performing on the Jungle Fever soundtrack and such television shows as Oprah and The Tonight Show. In the early Nineties, Maysa auditioned over the phone to become the new lead singer of the acclaimed British jazz/funk/R&B band Incognito, moving to London for four and a half years. She has appeared on over nine Incognito recordings and continues to appear as a featured vocalist with them from time to time. Maysa recorded her self-titled debut album for GRP in 1995, following it up with ALL MY LIFE in 1999, OUT OF THE BLUE in 2002 and SMOOTH SAILING in 2004. She then made an impact with her interpretations of classic soul music on two acclaimed albums for Shanachie, SWEET CLASSIC SOUL (2005) and FEEL THE FIRE (2007), on which she showed her ability to put her own unique stamp on familiar songs from the 1970s era. METAMORPHOSIS (2008) showed off Maysa's prowess as a composer and A WOMAN IN LOVE (2010) found Maysa returning to her roots as a jazz singer. MOTIONS OF LOVE (2011) which featured the ballad "Have Sweet Dreams" co-written by Stevie Wonder who plays harmonica and inspired by First Lady Michelle Obama and the duet "Flower Girl" showcasing Dwele.