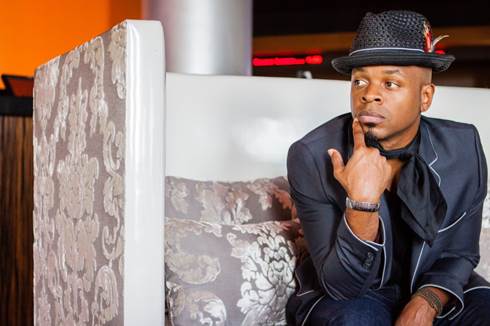 One of the industry's more interesting qualities is its uncanny ability to produce those few innovative producer/musician/songwriter collaborations that bring a unique "something special" to whatever music project they are working on. They have an unequaled degree of persona, innovative ideas, and represent a certain unexplained vision of life and music that the masses can identify with. Not complacent with just being the front man for multi-platinum R&B Supergroup Mint Condition, Stokley Williams, known as Stokley, is adding a new chapter to his career as a Producer and this music wunderkind's goal is to bring "the musicality back to music".
Currently, Stokley is one of the selected team of producers for the Award-Winning Hip Hop Artist, Wale and his new single, "LoveHate Thing" featuring Sam Dew. The new single is from Wale's upcoming new album release, THE GIFTED on Atlantic Records set for release June 25th. "LoveHate Thing" is currently the #1 Most Added and #1 Greatest Airplay Gainer on Urban Radio. One of the most recognized vocalists of his generation, Stokley was also tapped to co-produce five additional songs on Wale's new album that features Meek Mill, Cee Lo Green and Jerry Seinfield. Stokley also lends his signature lead vocals on the introductory song, "The Curse of The Gifted" on the long awaited THE GIFTED album from the rapper. Noted music industry insiders are "buzzing" that the production on Wale's new project might just catapult his career to a whole new level in 2013.
Stokley has certainly rubbed shoulders with such R&B and Pop Music royalty as Prince, Whitney Houston, Alicia Keys, Usher, Janet Jackson, Luther Vandross, Jill Scott, Toni Braxton, Yolanda Adams, Sheila E., Robert Glasper, to name a few, be it through background vocals, tours and/or studio sessions playing drums.
Production has been limited in the past for the lead signature vocalist of one of our most celebrated R&B/Pop bands, MINT CONDITION because of a busy touring schedule. Only recently has he started to focus on producing & writing for other artists. Other than offering up production on Jill Scott's 2007 "The Real Thing" CD, Stokley's outside production has been relatively quiet until now. His co-production with Lawrence Waddell & duet with Kelly Price on "Not My Daddy" was not only was a chart topper, but also earned Stokley his first Grammy Award Nomination in 2012.
According to Stokley, "As a producer, I'm looking for the musicality in the music. There are a lot of genre's to choose from & I wanna continue to mesh them together with live & electronic instrumentation in a way that makes sense, There's a lot of music out here, I'm just trying to give a different dynamic that will help inspire the artist to wanna sing or express themselves in ways they haven't before. A lot of times you may just have 2 sections in a song & sometimes that's all it needs. I just tend to like intro's, vamps, bridge's, outro's, uncommon quirky sounds, etc. Still making it accessible for the listener may be a challenge sometimes but I think we all should welcome that challenge, both artist & consumers.
Music Industry Veteran, Al Manerson says, "The doors are opening to Stokley & MINT not just in the R&B or Hip Hop genre, but also the pop arena due to the fact that the Katy Perry's and the Adele's are looking for more musicianship. This is the first time that Mint Condition has been concentrating on working outside of their fortress and Stokley is leading the way."