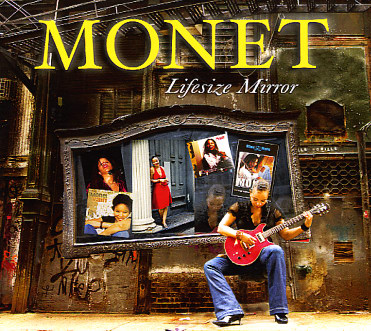 [audio:http://www.ykigs.com/1565.mp3]
LIFESIZE MIRROR, the title of Monet's upcoming project is scheduled for release by the Purpose Music Group through Nia Distribution on Oct 11.LifeSize Mirror makes a bold revealing statement about how profoundly life's journey has touched her. The thick, golden brown locs that once graced her crown – very much the signature image of her debut release ESSENCE six years ago – are gone. You almost don't recognize her. But that unmistakable voice buried deep in her chest, almost as if coming directly from her heart is ever present. Her flute that teases and soars, bouncing in the air like a wondrously, hypnotic tribal spell – is pronounced, only finer, richer and more knowing. This couldn't be more evident than in "VAIN," which uniquely combines jazz,classical and instrumental soul " VAIN" is an account of a reflective journey – Monet's flute like a snake charmer, beautifully intricate which starts out with moments of calm, coaxing gently until it deepens to a throaty rasp, becoming more complex and intriguing.
Monet's musical repertoire is diverse with influences drawn from jazz, soul, latin, classical, folk, house and funk. Fundamentally, however, her sound is purely rooted in organic soul. The influences are a glorious amalgamation of Marvin Gaye, Joni Mitchell, Bob Marley, Sade and Hubert Laws. Surrounded by multiple genres of music by both parents – her mother a doo-wop singer and her father a manager of jazz and Latin artists. Monet's – musical roots run deep. A little known fact is that she was accepted to the prestigious Cornell University at the tender age of 14 on scholarship due to her advanced musical proficiency in classical flute. Monet also plays guitar, oboe , piccolo and piano. One would be remiss not to mention Monet's various film credits including acting and directing. This is a resume full of aesthetic discovery.
While in between projects, leading up to the actual production of LIFESIZE MIRROR, Monet was quite busy at work fine tuning her craft, contributing her signature flute work, songwriting and vocals to recent projects by Angela Johnson "That's Just The Way"( which is also on Lifesize Mirror) , Nigerian world soul artist Siji "Fantasy" and "Ekundayo," and singer/songwriters Kendra Ross "Has to Be," and La Sonya Gunther, " How we Livin." Monet is involved in upcoming projects by Abby Dobson "Fly," Tarrah Reynolds and Collette. Monet also contributed to club hits by Melena Perez, "Confession," and Tortured Soul, "Don't Hold me Down," flute and vocals respectively.
LIFESIZE MIRROR promises to be rich with what we expect from Monet. However some surprising alternative twists to her sound abound. There is more orchestration in the arrangements, and the addition of violin, cello, trumpet and soprano sax on various cuts are welcome. Her reggae dub influence is present on, "Ever Want." Then there's the Monet that many are definitely familiar with in "Hold me Sweetly," a quivering ode to desire that Monet admittedly calls baby making music. Other cuts from this effort seem to convey odes of promise, hope, inspiration and transformation like "Walk with Me," and "It's Your Life," which is an anthem to one being a master of one's own destiny. Jeff Smith (Family Stand), violinist Tarrah Reynolds, keyboardist Nick Rolfe, vocalists Tricia Angus, Saundra Williams, Martha Redbone, and Abby Dobson, are all contributors to LIFESIZEMIRROR. The producers of the project include Steve Wallace, Angela Johnson, Sijii, Prez, Jesse Fischer (Soul Cycle),Ticklah and Ethan White (Tortured Soul).
Monet is an explorer. Through her musical expression we witness her seeking the highest level of self awareness and realization which is often referred to as LIFESIZE MIRROR. I n this project she freely moves through her existence fearlessly, balancing both the pain and the pleasure, the heartache and the rapture making sure we feel it too, spiritually, intellectually and physically. Conveying this is no easy feat – and as we bear witness to Monet's creativity as she continues to document her journey through her music. We know that we're all the better to be an audience to such a gift.