New Music: Bootsy Collins – Hot Saucer (featuring Musiq Soulchild & Big Daddy Kane)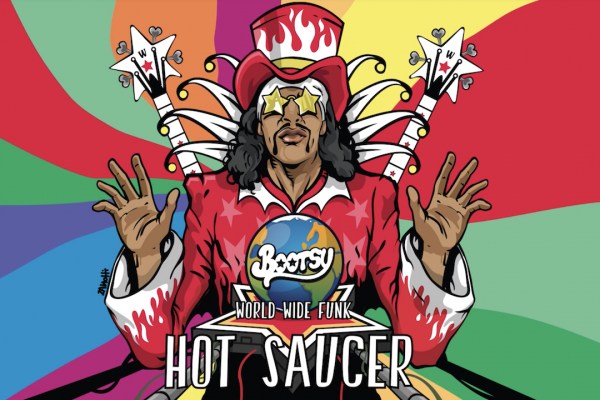 Legendary funk artist Bootsy Collins calls on fellow legends Musiq Soulchild and Big Daddy Kane for the new single "Hot Saucer". The retro themed single is included on Collins' upcoming album "World Wide Funk", his first release in over six years.
In case you missed it, Musiq Soulchild also recently released an album of his own, the double disc "Feel the Real".
Bootsy Collins "World Wide Funk" Tracklist
1. World Wide Funk [ft. Doug E. Fresh, Buckethead and Alissia Benveniste]
2. Bass-Rigged-System [ft. Victor Wooten, Stanley Clarke, Manou Gallo, Alissia Benveniste and World-Wide-Funkdrive]
3. Pusherman [ft. Dru Down, BlvckSeeds and Mr. Talkbox]
4. Thera-P [ft. Tyshawn Colquitt and Alissia Benveniste]
5. Hot Saucer [ft. Musiq Soulchild and Big Daddy Kane]
6. Heaven Yes
7. Ladies Nite [ft. MC Eiht and BlvckSeeds]
8. Candy Coated Lover [ft. X-Zact, Kali Uchis and World-Wide-Funkdrive]
9. Snow Bunny [ft. Tyshawn Colquitt, Snowbunny and World-Wide-Funkdrive]
10. Hi-On-Heels [ft. October London]
11. A Salute To Bernie [ft. Dr. G. Bernie Worrell]
12. Boomerang [ft. Justin Johnson]
13. Worth My While [ft. Kali Uchis]
14. Come Back Bootsy [ft. Eric Gales, Dennis Chambers and World-Wide-Funkdrive]
15. Illusions [ft. Chuck D, Buckethead and BlvckSeeds]
Tagged:
Musiq Soulchild