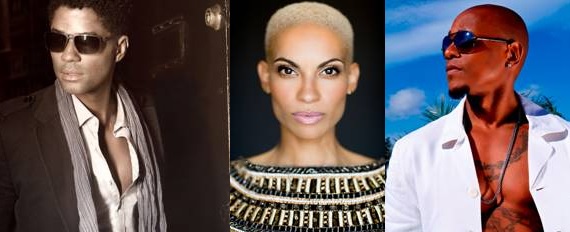 Grammy nominated artist Eric Benét, R&B singer-songwriter Calvin Richardson and soul, R&B songstress Goapele have signed deals with BMG/Primary Wave Artist Services to release their upcoming albums in the US.
Singer-songwriter Eric Benét has received a total of four Grammy nominations for 'Spend My Life with You' feat. Tamia (2000), the R&B hit 'You're the Only One' and the album Love & Life (2009) as well as Best Traditional R&B Performance for 'Sometimes I Cry' (2012). Benét will release his seventh studio album through the BMG/Primary Wave Artist Services partnership and also brought both Calvin Richardson and Goapele to the JV, whom he has been working with closely in the studio.
Calvin Richardson broke onto the music scene in 1999 with his debut R&B solo album Country Boy and continued to release four more albums, including a Grammy-nominated tribute album to Bobby Womack. Benét and producer Demonte Posey teamed up with Richardson to produce his forthcoming album, which is expected to be released in the summer 2014. The first single is entitled 'We Gon' Love Tonight' and will be available May 2014.
Goapele is also currently working in the studio with Benét and other producers on her fourth studio album, which will be released in fall 2014. The new release of the soul, R&B singer-songwriter will follow Even Closer (2001), Change It All (2005) and Break of Dawn (2011). The new music will still feature her powerful soul vocals, but with contemporary R&B production.
Benét, Richardson and Goapele are the first R&B artists to sign with BMG/Primary Wave Artist Services. In September 2013, BMG and Primary Wave formed the strategic joint venture to release new records under BMG's proven Artist Services model in the US. The Artist Services model is designed as an alternative to the traditional major label deal, with artists retaining ownership of their copyrights and full creative control while receiving the necessary funding as well as the combined power of BMG's global reach, worldwide administration and synch services and Primary Wave's strong, in-house marketing team, which includes resources such as brand marketing, digital marketing, product management, press and TV/Film development.
"It is with great pride that we are able to introduce Eric Benet, Calvin Richardson and Goapele to the BMG/Primary Wave family," stated Larry Mestel, CEO of Primary Wave Music. "Our approach to artist services is truly unique to the industry. Our model is to partner and work very closely with the artists during every aspect of the process from inception to the release of the music."
Richard Blackstone, EVP Creative & Business Development at BMG Chrysalis US, said "We are very excited to welcome Eric Benét, Calvin Richardson and Goapele as the first signings to the BMG / Primary Wave Artist Services joint venture. I am confident that our collaborative approach and the ability to have full creative control and real transparency in budgeting and marketing, will strike a chord in their world as it has elsewhere. Artists deserve an alternative to the traditional record deal."