Raheem DeVaughn Set to Release Fourth Album "A Place Called LoveLand" September 3rd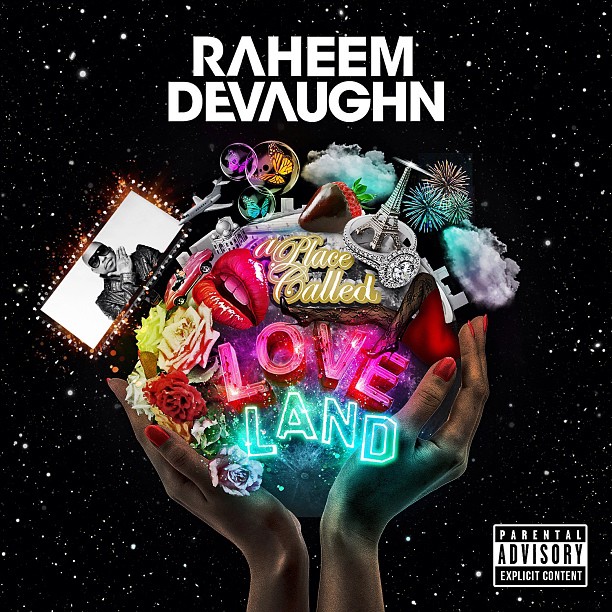 RAHEEM DEVAUGHN SET TO RELEASE A PLACE CALLED LOVELAND SEPTEMBER 3RD
NEW VIDEO FOR RIDICULOUS PREMIERES ON VEVO AUGUST 21ST
Mass Appeal Entertainment and 368 Music Group are pleased to announce the upcoming release date for A PLACE CALLED LOVELAND, due on September 3, 2013. The disc is the fourth studio album by 3-time Grammy Award nominated singer/songwriter/activist, RAHEEM DEVAUGHN.
Following The Love & War MasterPeace (2010), the Grammy-nominated "Best R&B Album," A PLACE CALLED LOVELAND, is sure to be a chart-topper with production offerings by top producers such as: Carvin and Ivan, Adonis, Mario Winans, Jay Fenix, and Dre King and a special songwriting credit by Ne-Yo.
The first single off of the new album was the vibrant, up-tempo, #1 Most Added single at Urban Radio, "Love Connection," produced by Carvin & Ivan. "I released "LOVE CONNECTION" first because I thought it was a great way to re-introduce me, my sound and create a sonic connection between people," shares DeVaughn.
On the second and current single, "RIDICULOUS," Raheem teams up with Ne-Yo, who wrote "I Don't Care" on Raheem's 2010 album release. Top markets for early airplay include DeVaughn's hometown of Washington, DC, Baltimore, Detroit and New York City. The video for "Ridiculous" will premiere on Vevo on August 21st. "I think Ne-Yo's songwriting ability is a blessing to R&B music," states Raheem. "RIDICULOUS" is a beautiful love song that speaks for the brother's who don't know how to express their emotions into words. Raheem promises, "I think it will be one of those records that you'll hear forever."
Other standout tracks include the sexy and provocative "PINK CRUSH VELVET," which RAHEEM likens to Bobby Brown's smooth classic hit "Tenderoni." "After you hear it a few times, you'll figure out what it's about," Raheem teases. "It's a very seductive and poetic song. As he does on every album, RAHEEM pays homage to women with the uplifting jam "Make Em Like You," produced by Dre King. "This is a song women will want to wake to in the morning. I wanted to give them another anthem to let them know they are beautiful and honored."
The leader of the DMV Movement (Wale, Phil Ade), three-time Grammy Award nominated singer/songwriter RAHEEM DEVAUGHN, has had Top 10 success with three chart topping singles, "Woman," "Customer," and "I Don't Care." He is one of the hardest working R&B stars to date having released more than fifteen mixtapes over the past 9 years. DeVaughn has won both BET & BET J Virtual Awards and has over 10 million combined views of his video releases. Recently, he made history in his hometown of Washington, DC, when Mayor Vincent Gray awarded him the Key To The City for his work with HIV/AIDS, proclaiming his day of birth, May 5th, "Raheem DeVaughn Day." In June 2011, Raheem launched his very own internet radio program through http://www.blis.fm/raheem that airs every Sunday from 7 – 9 PM, where he presents a format that provides an-depth look at all things "Raheem," Good Music, A Social Conscious Perspective, while blending elements of lifestyle and Pop culture for all listeners to appreciate. He recently celebrated the two-year Anniversary of this show and is line to be syndicated soon.
Following the release DeVaughn will hit the road on a headlining tour this Fall starting on October 2nd and ending on October 26th.
Tagged:
Raheem DeVaughn