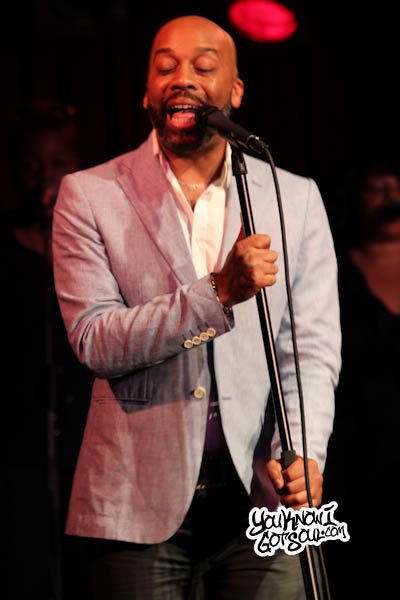 R&B Star Rahsaan Patterson Opens Up About Childhood Sexual Abuse
Mack Avenue recording artist and soul innovator Rahsaan Patterson is the new celebrity ambassador for RAINN (Rape, Abuse & Incest National Network), the nation's largest anti-sexual violence organization. Patterson, a former star of the American children's television program Kids Incorporated, has sold more than 10 million CDs to date with his six critically-acclaimed releases: Rahsaan Patterson (1997); Love and Stereo (1999); After Hours (2004); Wines & Spirits (2007); The Ultimate Gift (2009); and Bleuphoria (2011).
"I was sexually assaulted when I was 6-years-old and wasn't able to share it with my family until I was 18-years-old. Looking back on it, I wish there was an organization like RAINN that I could have turned to for help with dealing with what happened to me," said Patterson. "After 30 years I finally have an appreciation and love for myself that has been missing for most of my life. The most important thing for me at this point is to be able to communicate through music and art and help others. What happened was extremely traumatic and will forever be embedded in my mind and in my life. It's nothing I can avoid so it's really about accepting it, owning it and knowing that it's happened but it doesn't have to represent who I am for the rest of my life."
To kick off his partnership with RAINN, Patterson has recorded an original song "Don't Touch Me" that will be used to raise money for the non-profit organization. The Los Angeles-based singer follows in the footsteps of RAINN co-founder, recording artist Tori Amos, who previously recorded the song "Unlock the Silence" to raise awareness for the organization. Other celebrities in partnership with RAINN include actress Christina Ricci ("Pam Am"), WWE professional wrestling legend Mick Foley, actress KaDee Strickland ("Private Practice") and denim designer Paige Adams-Geller.
In addition to his work with RAINN, Patterson is enjoying the success of his sixth studio release, "Bleuphoria." The disc's second single, "Crazy" is Top 25 at Urban Adult Contemporary Radio and features R&B singers Faith Evans and Shanice Wilson. The song is the follow-up to "Bleuphoria's" first single "6AM," which features soul star Lalah Hathaway.