Syleena Johnson Presents: Mommy's Who Sweat: Extreme Fitness Bootcamp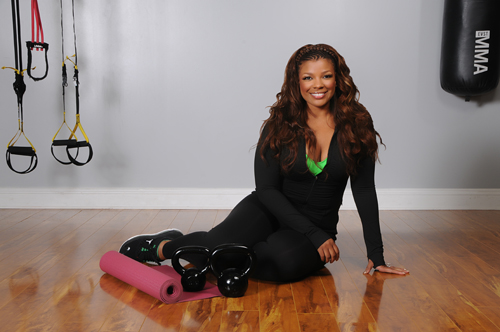 Who: Syleena Johnson and The Sweat Party, LLC.
What: For The First Annual "Mommy's Who Sweat: Extreme Fitness Bootcamp". This will be Atlanta's biggest health and fitness bootcamp and fair to date!
Where: Metro Plex Atlanta. 1959 Metropolitan Parkway, SW Atlanta, GA 30315
When: Saturday, February 2, 2013. ** Free Admission, Registration Required **
**Participants can choose from Boxing, Dance, Aerobics, Yoga, Strength Training, Sweat Classes and more!**
Atlanta, G.A. – January 18, 2013 – The talented and extraordinary Grammy Nominated R&B recording artist and star of the hit television reality show R&B Divas, Syleena Johnson, continues to keep her fans on their toes! With a conscious effort and desire to keep women fit, healthy and in shape, Syleena along with her trainers have joined forces with The SWEAT Party, LLC Fitness & Lifestyle Movement to create a day of real boot camp training that's sure to kick women and mommies into shape and a healthy lifestyle.
With the upcoming release of Syleena's highly anticipated fitness DVD, Mommy's Got Soul, and her dedication to health and fitness; Syleena and her trainers have put together a fun-filled day for participants to come out and enjoy! The day begins at 8am, where guests will register for the specific classes that range from a step-off, to Sweat Classes, zumba/dancing, kickboxing/cardio, and much more. Some highlights of the day include an intermission workshop titled "You Are What You Eat" and an actual military boot camp course ran by a REAL drill Sergeant, with lunch being provided at 12pm with healthy options from Subway.
To reinforce the theme of "health is wealth", campers will be able to talk face-to-face with nutritionists to gain tips on eating right and nutrition, as well as access to nurses on site administering blood pressure screenings, weigh-ins and BMI check-ins.
Now, if this doesn't sound like the BIGGEST and GREATEST Boot Camp & Health Fair to hit Atlanta, I don't know what does! ARE YOU READY TO SWEAT FOR YOUR SOUL? See you in Atlanta on Saturday, February 2, 2013 from 8:00AM to 2:00PM ET at Metroplex Atlanta.
Please note that this is an adult only boot camp and absolutely no children will be admitted, however will be accommodated for future camps. Sign up and register at http://syleenajohnson.eventbrite.com
Tagged:
Syleena Johnson