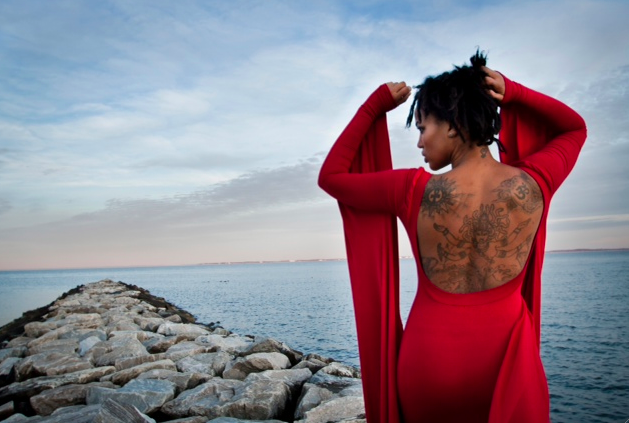 Blessed with the gift of enrapturing any audience with spellbinding flow and magnetic aura, The Floacist spins tales of love, loss, empowerment and change on her new CD Rise Of The Phoenix Mermaid. Staying true to her credo to create personal, soulful and honest anthems that speak to the soul, The Floacist delivers her finest recording yet. Born in Germany to Jamaican-born and British-raised parents, the striking poet and singer took the music world by storm in 2002 when she graced the R&B scene with her brainchild Floetry. The Gold-selling duo's unique elixir of sensual soul and poetic justice garnered seven Grammy nominations and created such smash hits as "Floetic," "Say Yes" and "Getting Late." Floetry followed with two more best selling albums over the next few years. In 2010 The Floacist made her solo outing Floetic Soul which was followed by 2012's The Floacist Presents Floetry Re:Birth, both of which continued to explore The Floacist's genius musical mind. Like her previous two solo recordings, Rise Of The Phoenix Mermaid is inspired by the understanding that her original Floetic concept of `poetic delivery with musical intent' has not come to an end. Even though her group, Floetry, has completed its cycle, she was left with the realization that she still had music in her mind, heart and soul. "I am amazed at her depth and creativity. I truly believe that this album far surpasses all of her previous work -and that's saying something," states Danny Weiss, VP of Jazz A&R for Shanachie.
A purveyor of meaningful and meditative prose, soulful R&B grooves and jazzy vibes, The Floacist's willingness to express herself in various musical contexts is refreshing. Rise Of The Phoenix Mermaid opens with the tender, sweet and sultry "Feel Good." The Floacist poetically romanticizes about her 'warrior star' and 'Buffalo Soldier,' strategically manipulating words that effortlessly slide into place. In her trademark hypnotic and dreamy way, The Floacist sets the tone for an enchanting journey. She dreams big on "Try Something New (I Do)," a positive, life-affirming tapestry of sound that builds on her visionary approach to life. The Floacist entices with her lyrical karma sutra on the soulful and ambient "Doing This," the mesmerizing "If You Really Want To Know" and the lovelorn "Good Love." The polyrhythmic "Heat It Up," begs for unity and global consciousness, while the motivational "On It" grooves to the beat of purpose and self fulfillment as The Floacist purposefully raps "Be the winner every time you dream…don't let no doubt blind you….every time you fall you get up and you do…let this walk free you…I'm on it cause I want it." The Floacist pays homage to her Grandmother on the intoxicating reggae-tinged "Grandma," giving praise to the matriarch for her eternal love and lessons to the family.
The meditative and sublimely orchestrated "Wisest Thing" speaks to karma, letting go and wisdom. Rise Of The Phoenix Mermaid closes with the cathartic bass-funky and catchy "Broken Heart." With her floetic flow in full effect The Floacist advises," You never die from no broken heart, no matter how hard you cry. You never die from no broken heart don't try!" And like Rise Of The Phoenix Mermaid The Floacist emerges triumphant once again!