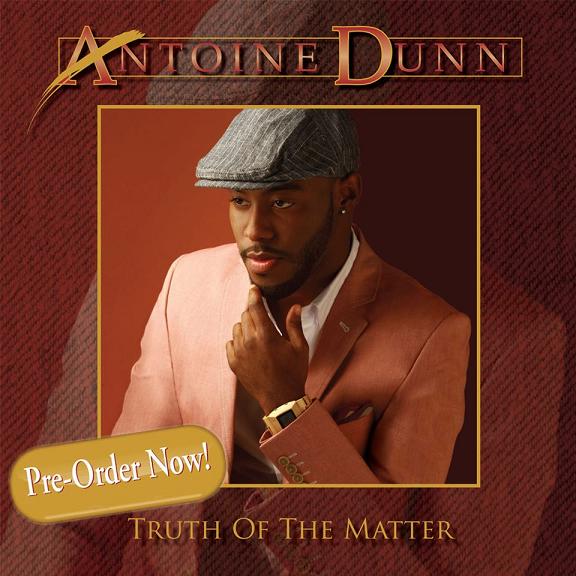 Singer/Songwriter Antoine Dunn Releasing Debut Album

Truth of the Matter on October 16

Second Single/Video "Miss My Love" #15 Urban AC Chart

FRESH OFF THE SUCCESSFUL ANTHONY HAMILTON, "BACK TO LOVE' CONCERT TOUR
(For Immediate Release – Cleveland, OH): With his Top 20 debut single "Can't Forget" and the follow-up single/video "Miss My Love" currently residing at #15 on the Urban AC chart, singer/songwriter/performer Antoine Dunn is swiftly proving to be the next great soul man. The 24 year-old Cleveland-born natural is that rare complete package of soul that seems to only come along about once in a decade.
Having just wrapped as the opening act of the "Back to Love" Tour with Anthony Hamilton and Estelle, Dunn was the epitome of dynamic and classy R&B singer, crooning with sincerity and power in a sharp white suit with hat to match and backed by a crack 4-piece band. Extending his gratitude, Dunn states, "After all the dedication and hard work, for someone like Anthony Hamilton to extend this opportunity to me twice is nothing short of amazing."
On October 16, 2012, the music world will receive Dunn's long awaited 12-song debut CD Truth of the Matter – of unusually high quality and breadth on Elite Music Group, Inc. That's due to the seasoned co-production of soul music veteran Edwin "Tony" Nicholas (Gerald Levert, Barry White) and Antoine's own passion, styles and talents. The artist boldly states, "My ultimate goal is to take my music to a global level like Alicia Keys or John Mayer."
The proof is in the impressively diverse grooves of all original songs such as the dreamy mid-tempo love song "Back to You," the piano and live drum-driven "I Just Want to Say," the sexy-sexy seduction number "Sweet Lady" and the heavy backbeat bye-bye song "It's Over." Antoine Dunn rolls from "Stand Tall," a bluesy track about being fired from his job while his wife is headed to the hospital, to the album closing title track, "Truth of the Matter," a strings-drenched apology ballad complete with violin solo and a BIG pop finish. This man's gifts know no limits.
"I grew up on my parents' record collection," Dunn shares, "everything from Esther Philips to The Dramatics. I wrote my first songs in middle school when I started dating. My first song was titled 'I'll Be There.' My older brother was studying to be an opera singer and had a Yamaha PSR keyboard. I'd sneak in his room to play it. I also had a Gateway computer with a 60-second recording feature. I'd make up little 1-minute songs and that's how I also started producing."
Dunn stated of the old school yet new school slant of his sound, "Just like people like ice cream, they should be willing to try new flavors. My music is fresh, yet familiar." Citing all-around music greats Stevie Wonder and the late, great Donny Hathaway as his biggest influences, Antoine Dunn went on to be picked up as the opening act of Anthony Hamilton's national "Back to Love Tour" (with Estelle) where he received glowing reviews, particularly for a warm up act.
A journalist from the Examiner.com wrote in her review of his opening set at Detroit's legendary Fox Theatre, "Those that had made the wise decision to arrive early experienced a powerful show filled with passion, heart and profound musicianship. Antoine Dunn possessed a familiarity with the stage and the audience so often lost on newcomers." On a blog, a fan writing under the handle MsSchelle87 beamed, "I am so in love with his sound. It reminds me of that old school soul. Wow – finally real music and a powerful voice along with it is back."
The depth of that old school is also apparent in his heartfelt dedication of Truth of the Matter to the memory of his mother who passed away last year after a battle with breast cancer. Antoine is releasing his album in October – Breast Cancer Awareness Month – in her loving honor.
Antoine Dunn is all about music's power to bring people together. "Holistically, so much keeps us separated – sexual preferences, economics, neighborhoods. My goal is to help break down barriers. At a concert when everyone is vibing on the music, no one cares whether the person sitting next to them has the exact same beliefs that they do. As an artist, I want to do things that reveal me as unlimited in my creativity and with the purpose of unity."