The SoulBack R&B Podcast: Episode 43 (featuring Jon B.)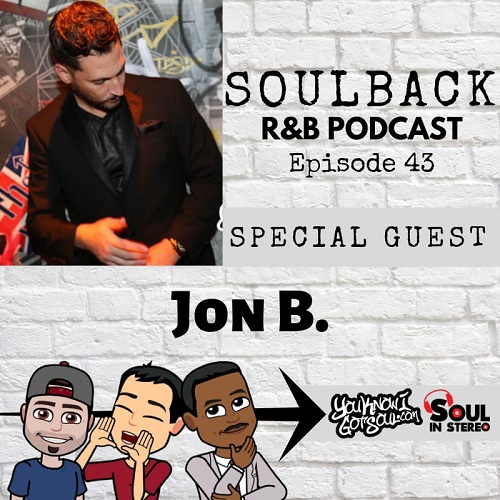 This week's podcast is a special one because we have Jon B. in the house! Not only is Jon responsible for classic hits such as "They Don't Know", he's coming out with a new pair of shoes that we're very excited about. We talk to Jon B. about his new single with Donell Jones and he also gives us a preview of the new album that he's working on. We also find out what happened to the "Hurricane" single as well as dig into his history a little bit. As far as our conversation, well we confirm that Avant is doing just fine so tell your friends!
0:00:15 – We have confirmed that Avant is alive and well
0:01:35 – Proper etiquette if you bump into your favorite artist at Disneyland
0:05:30 – Jagged Edge trivia
0:08:40 – New music from Jacquees, Maxwell, Marvin Gaye and Lion Babe
0:13:10 – Jaheim's epic Instagram rant
0:15:10 – Playa Please Awards: Recall on chicken strips because they contain metal, Daniel Caesar's ability to piss off the internet
0:18:20 – Jon B. joins #SoulBackPodcast
0:19:00 – New single "Understand" with Donell Jones
0:23:30 – We talk about his upcoming album
0:28:41 – Why do a lot of people think Jon B.'s last album is "Pleasures U Like"?
0:33:15 – What happened to the "Hurricane" single and the "Mr. Goodnight" album?
0:38:25 – Fans in the US vs overseas
0:48:50 – R&B community fully accepting Jon B.
1:00:45 – We ask Jon B. for a pair of his new shoes
1:08:20 – Ranking Musiq Soulchild's discography
Follow our podcast on Soundcloud: https://soundcloud.com/youknowigotsoul/sets/youknowigotsoul-podcasts
Follow our podcast on Spotify: https://open.spotify.com/show/6oLmNUkcXrAqsQP5EBJ4dk
Follow our podcast on iTunes: https://itunes.apple.com/ca/podcast/youknowigotsoul-podcast/id998813013
Follow our podcast on Google Play: https://play.google.com/music/listen?u=0#/ps/Imoe7gt6vd4v6iuf4yq5fyhy3e4
Follow our podcast on YouTube: https://www.youtube.com/playlist?list=PLVyB7WCEUIPl_CYZFTwiNLHqtCHaK2GcK
Tagged:
Jon B.