The SoulBack R&B Podcast: Episode 65 (Featuring Harvey Mason Jr.)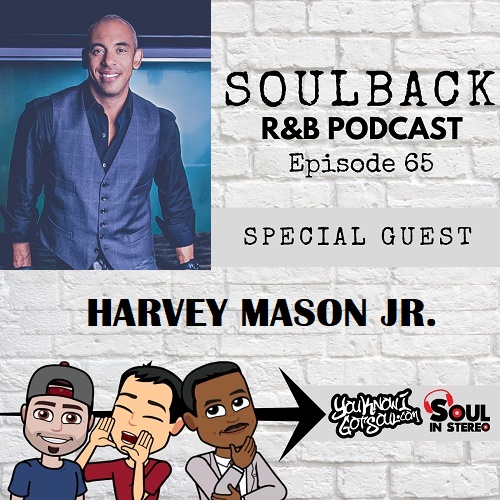 We are joined this week by producer Harvey Mason Jr for an interview. Most will know him as part of The Underdogs which brought us hits such as "O" by Omarion as well as "Naked" by Marques Houston. He's also done a lot outside in the film industry with his music contributions to "Sing" and "Dream Girl". We talk to Harvey about his history and also touch on some of the behind the scenes that goes on in the music industry. On our end Edd returns to the podcast to talk about Missy Elliott's VMA performance and new projects from Chris Brown, H.E.R. and Justine Skye. This is a long episode but we have lots of great content, so check us out!
0:01:50 – Shouting out the B5 stans
0:03:50 – Missy Elliott's performance at the MTV VMA show and her impact
0:08:00 – Chris Brown set to release a deluxe version for "Indigo"
0:11:31 – H.E.R. has combined more EP's together???
0:16:55 – 106 & Park's negative impact on stanning
0:22:43 – New projects from Justine Skye, Lyfe Jennings, Raphael Saadiq
0:28:19 – Harvey Mason Jr joins the #SoulBackPodcast
0:28:53 – Which former Arizona college basketball player wins in a three point shootout?
0:29:22 – The importance of Joe's "All That I Am" album
0:33:24 – Working with Darkchild on Michael Jackson, Toni Braxton and Whitney Houston
0:35:32 – The creative process with The Underdogs
0:43:52 – Our favorite Underdogs songs: Ruben Studdard – Sorry 2004, Toni Braxton – Why Won't You Love Me
0:49:30 – His work on Tank's "Sex, Love & Pain"
0:55:32 – Scoring films including the upcoming Aretha Franklin biopic
0:59:30 – Music made for the US market vs K-Pop
1:02:25 – Upcoming projects
1:08:08 – SoulBack Track Of The Day: Missy Elliott, Nicole Wray, Big Boi – All N My Grill
1:09:52 – Playa Please Award: Chief Keef's 10 baby mamas, 50 Cent's comments about Joe/Trey Songz/Chris Brown/Michael Jackson, Team Childish Gambino's comment about the Tamia cover, Dallas Austin's Brandy/Monica story
Follow our podcast on Podbean: https://youknowigotsoul.podbean.com/
Follow our podcast on Soundcloud: https://soundcloud.com/youknowigotsoul/sets/youknowigotsoul-podcasts
Follow our podcast on Spotify: https://open.spotify.com/show/6oLmNUkcXrAqsQP5EBJ4dk
Follow our podcast on iTunes: https://itunes.apple.com/ca/podcast/youknowigotsoul-podcast/id998813013
Follow our podcast on Google Play: https://play.google.com/music/listen?u=0#/ps/Imoe7gt6vd4v6iuf4yq5fyhy3e4
Tagged:
Harvey Mason Jr.
The Underdogs