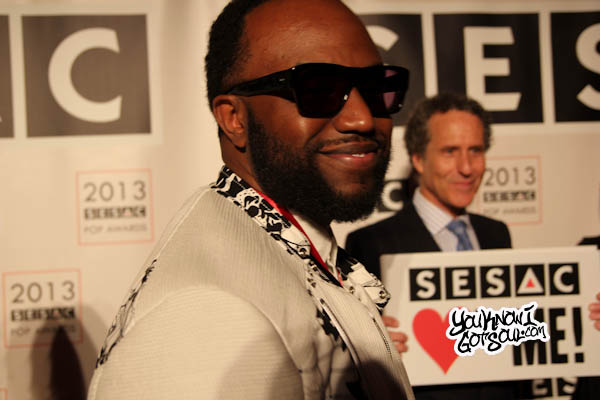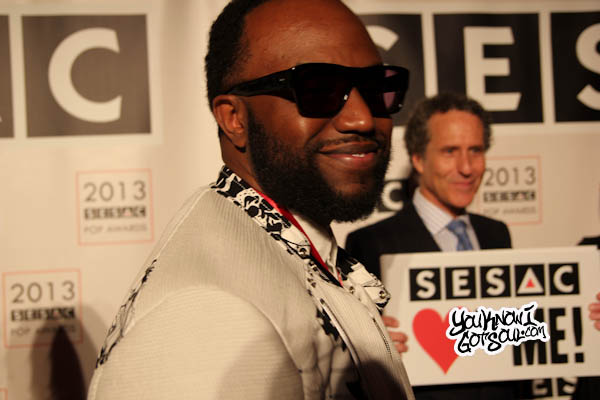 The phrase "Turn The Lights On" was heard almost constantly in 2011 throughout radio stations. The man responsible for that is, of course, Rico Love. With songs penned for the likes of Kelly Rowland, Mary J. Blige and Melanie Fiona, Rico consistently put out big records and shows no sign of stopping anytime soon. YouKnowIGotSoul had a chance to speak with him about some upcoming projects that he's working on for Teairra Mari, Brandy and Usher, and also talked to him a little about his label Division 1.
YouKnowIGotSoul: Just recently, you and Teairra Mari released the single "U Did Dat". Talk to me about how that song came about.
Rico Love: I actually wrote the song prior to her being there. Sometimes I'm in the studio and make records with people in mind. This time, I had Ciara in mind actually for that record. I loved it so much and I was like, "I might as well give it to my artist" and when Teairra came down, it was one of the first records that we cut this fast. It was a few weeks ago, it was recent. She came down and as soon as she cut it, I loved it and wanted to release it.
YKIGS: Of course, she's one of the artists on your label. Talk to me about the plans you have for your label.
RL: Division 1, we're ready now. We're just building a brand and making sure people are aware of who we are. We're releasing music on artists. I got my artists who are putting in the groundwork, hustling and doing the work that they should be doing on their own. We're just focusing on building a brand, building a mogul and awareness is the key thing right now. I'm excited about being able to write and produce songs from an executive standpoint as well as the business side of it and the political side of it. I'm working on angles when it comes to the music business because I feel like that's the only way you can become a mogul. I'm really excited about Division 1 and what we have to offer. The hustle and grind is a uphill battle, but we're willing to do it.
YKIGS: We've actually had a chance to interview two artists of yours. One being Teairra and the other being Cherlise. Do you think it's going to be hard to push both at the same time since they're both female artist?
RL: No, think about it, Rock companies have so many different Rock bands signed to them. Think about Motown. They had Marvelettes and then they had The Supremes which is the same type of group. These are just two females, but they're not two female artists who do the same type of music. So it's really just about people liking the songs.
YKIGS: With so much of your energy being focused on different placements with different artists, has it been hard to find the time to run your own label?
RL: Yeah, it's very time consuming. You definitely have to wear a lot of hats, but it's been done before. I want to be one of the greats, so I'm just putting in the work to get it done.
YKIGS: Do you ever take it personally when a song you created doesn't end up becoming a hit on the charts?
RL: Actually yeah, I do. I really get upset about it. I feel like all of my records have potential to be hits. Sometimes it's promotion, sometimes it's bad timing, but yeah I take it very personally. I'm very hard on myself when it comes to my records. I really believe that if it's not number one, I've failed.
YKIGS: A while ago, you mentioned that an artist you wanted to work with is Brandy and I know you guys got into the studio a couple of weeks ago to work on some songs. Talk to me about how that went.
RL: It was amazing. We got three records recorded and we're cutting another two for sure. We're super excited about Brandy. I think I'm going to end up with five on the album. I'm really excited about the project.
YKIGS: What can people expect as far as the sound of the stuff you did with Brandy?
RL: I just wanted to stay true to R&B. I wanted to make classic R&B songs that would be strong radio, melodic records. Her voice is amazing. I wanted to give her different types of arrangements. Not the same everyone is used to hearing from her. I wanted to give it my take and she allowed me to do so. So we had a good time. People are really going to love the records.
YKIGS: An artist you're constantly working with is Usher. We've heard he's about to start on his new album. What do you plan on bringing to him this time around?
RL: We're experimenting with new sounds. We're just making music. We're not trying to put ourselves in a box. We obviously want to maintain the soul and the R&B substance, but we don't want to limit ourselves to just R&B because he's just a mega star. He's been in music for so long. I definitely want to make sure we don't limit him.
YKIGS: There are writers out there who are very selective about who they work with, but you seem to be open to working with anyone whether they're a major artist like Usher or an independent artist like Carl Thomas. Talk to me about the mindset with that.
RL: I do music based upon who I like and who I think has the potential to win. I don't really judge them by "Oh somebody is hot right now". If I think the music is dope and I think the potential is there, I want to do it.
YKIGS: One thing Carl Thomas noted in an interview we did with him is that you actually take the time listen to the artist's music before working with them. What specific things are you listening for when you're studying an artist's past music
RL: I'm writing from a standpoint of a fan. Most of the people I've had the privileged of working with, I'm fans of. I know what I want to hear from Usher or Carl Thomas as a fan, so I write accordingly. That's basically what it is.
YKIGS: Who are you currently working with?
RL: Usher right now. I'm flying to Atlanta to play some records for T.I. that I did. I think he cut two of my records so far and I did a few more for him. Brandy, obviously. Rick Ross and a lot of people like Keyshia Cole. Everyone!