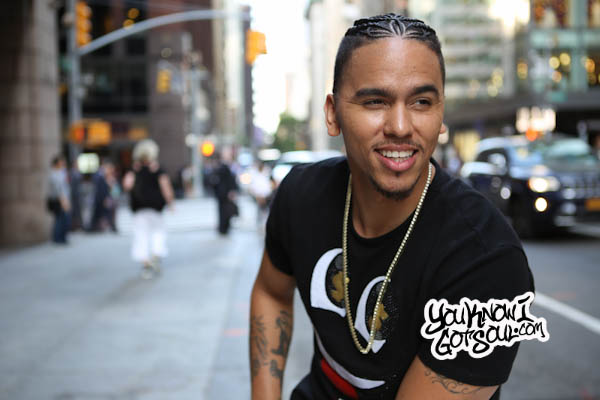 As traditional r&b artists have become an endangered species over the past decade, it's been fun to track the career of Adrian Marcel since he was first introduced by Raphael Saadiq. Since he dropped his first mixtape "7 Days of Weak" a few years back, we've been early supporters, and had the opportunity to watch his career blossom since. Things have culminated with the release of his long awaited debut album "GMFU" last month. YouKnowIGotSoul had the opportunity to interview Adrian Marcel once again and discussed the creation of his debut, keeping the love in his music, reconnecting with fans, and much more.
Also in case you missed it, check out this great acoustic performance he did for us right in the middle of the streets of NYC.
YouKnowIGotSoul: Your debut album "GMFU" is out now. What does this moment mean for you, since it's been such a long time coming?
Adrian Marcel: I'm having a moment of transcendence since the album came out because it's been a long time coming. Since 2012/2013 dropping "7 Days of Weak", the fan base that I've obtained at that point. Even "2 AM" going platinum this year. I'm very happy about that. It's been a lot of blessings. I definitely needed that time away to recollect myself and get over some of the things that were going on through the 2014-2016 time. Separating from my label and going independent. Doing this truly on my own, really honing in. Of course with Raphael Saadiq and a few really talented producers and song writers. Coming out with something that I feel is very authentic and original and not like anything that's out right now. For it to be received the way it is, I'm blessed. Again, it just shows you know I got soul!
YouKnowIGotSoul: We love the organic way you first released the album, handing out physical copies and selling it by yourself before it was online. What made you decide to do it that way?
Adrian Marcel: I really wanted to tap into my fan base. Being gone for so long, and not truly having that connection fully with the fans. I had to take a step back for myself, but I've always been a very personable artist. I've always been someone my fans could come and talk to if they see me in the street or at shows. Even with "7 Days of Weak" I went hand to hand. I moved around city to city. When it came to this, I wanted to find out how I could be more innovative and touch more people and have more of a fan base than I did then. I figured the best way is the US Postal Service, get it out to the people as soon as possible I started setting up and writing addresses and having people place their orders. The feeling that my fans got from receiving those in the mail with those personal letters and everything like that just shows what I've been doing was new. I'm always about being innovative, especially in ways I can talk and communicate with my fans. It really was just a new beginning for me.
YouKnowIGotSoul: Talk about some of the themes you have on this album.
Adrian Marcel: I come from East Oakland, born and raised. It's very versatile where I come from. There's a lot to do and a lot of people and things that go on in my city. With this album, I honed into the bay area sound. I wanted people to feel what I felt. I went back home to create this album. I had to go back and get in tune with those sonics. When it came to the themes of it, I wanted to make sure I tapped into the things I felt were missing. Being from Oakland, we're very big on just sticking with the culture and prideful of what we represent. I represent love and I've always represented a certain fence for relationships. The whole thing about it was just to show my growth and what I'd been through the past two years. I feel like there was a disconnect between some of those times with me kind of getting off the label and going independent. That's why I needed to take that step back so I could give more to the fans. I feel like it wasn't nothing too deep and that would go over anyone's head; it's some things I felt everyone goes through and were missing in music. I felt we weren't talking about love enough, we're not talking about staying together or as a male I have feelings and miss a woman and yearn for her. We live in a very sexist world these days. I'm just trying to make sure I build that bridge once again.
YouKnowIGotSoul: Tell us about the significance of the female Candi you've had on skits on each of your projects including the intro on this album.
Adrian Marcel: When we did "7 Days of Weak", Candi represented that Detroit feel. Oakland is very much like Detroit, just like Chicago. I felt like I wanted to have something very authentic in that piece, being my first offering to the world. With that, it kinda just grew. I felt like in "Weak After Next", it got a little aggressive, and it gets like that in relationships. For this album, I felt it was only right to start with Candi rather than see her in the middle. I wanted her to kick it off and be a certain tone and feel of love. I think Candi represents a big part of Adrian Marcel and my career thus far. She's been a part of all of my projects and I wanted to keep that tradition going. It's almost like keeping "Presented by Raphael Saadiq". It meant just as much. The people that put the hard work into my projects, a lot haven't changed. I wanted to show that respect and honor to the people that rock with me.
YouKnowIGotSoul: When listening to the album, you hear a mix of that raw and honest traditional r&b sound and then some of the trendier sounds as well. As a young r&b artist, what is the balance of mixing the two?
Adrian Marcel: I think for me personally, living life and tapping into reality and constantly being aware of what's going on in current time, I think it keeps me balanced. We all evolve and grow, and I think we sometimes run from the growth and where we're headed. It wasn't that I listened to anybody in particular, other than my own. The focus was to hone back in on the original Adrian Marcel and how I was presented to the world. As far as the trendiness goes, I'm young. I still turn up and have a good time, I still hang out in clubs every now and then, I'm still moving around. Those sounds and sonics are still going to find their way to my soul. It was just really about throwing away the things that I didn't need and keeping the things that stuck and had substance to it. I didn't want to be so trendy that I lost the substance of what Adrian Marcel represented and who I am honestly. I kept it fun, the people around me kept it young and original.
YouKnowIGotSoul: The album is out now, you mentioned separating from the label, so what's next from Adrian Marcel?
Adrian Marcel: Right now, we're just getting back to completely honing in on my audience. We're putting together a tour right now, it's on the way. I've been planning out how to make it more of an experience and more intimate. Since I did take some time away, I'm all about building that bond even stronger than it was. A lot more music on the way. We've been dipping and dabbling into acting now. Just keep your eyes on the screen because I'm coming for you. I've been producing for a few cats, especially my girl who writes all of my music with me, Jane Handcock. As much as I can, just being in the people's faces and being in everyone's zone. I want you to feel me and I want us to be close again. A lot more east coast, Midwest, of course we're going to hold Cali down. You've just got to stay tuned. I do have this baby face, so I may do this modeling thing. Just tap in with my fans. Even so much that I went out and I have this phone that I use to tap in, I call it the fam line. I'm going to give y'all the number, it's the GMFU hotline. I want you to make sure you tap in with me. I want to know what your favorite songs are, I want to know how your day has been, I want to know what you got you F**ked up and why and how we can get you back on track. Call this number if you ever need to talk, it's 510-316-7607. Call me. You might also want to go hit me up at my website, AdrianMarcelOfficial.com, because there is a lot of new merchandise there and other things I'm sending out to you personally.