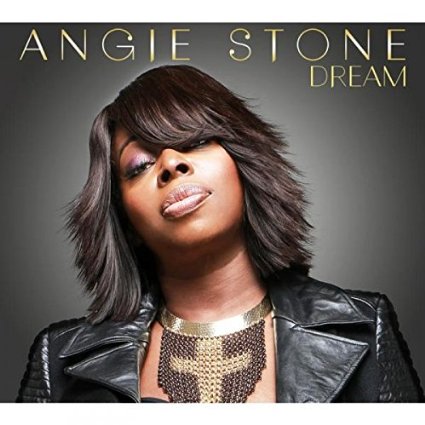 Words by Edward T. Bowser, SoulInStereo.com
Back in 2001, after listening to Angie Stone's second album – and her signature work – Mahogany Soul, I made the following statement:
"If Mother Nature could sing, she'd sound like Angie Stone."
Her vocals are always so warm. And her lyrics resonate with the wisdom of the ages.
Angie's the cool auntie who listens to hip hop and offers good advice, yet she's human enough to make mistakes of her own. Over the past few years, those mistakes have overshadowed her music but for the time being, let's leave those headlines to TMZ. Instead, it's those mistakes, and the lessons that come from experiencing them, that are the hallmark for good music.
Angie's seventh album, Dream, is an ode to the travails of love, delivered by a woman who has been through it all.
Album opener "Dollar Bill" is impossibly catchy, where Angie B flat out says "I'm not searching for Mr. Right right now … I'm single as a dollar bill." It's a surprisingly addictive anthem for all the single ladies, thankfully delivered with the poise of a woman comfortable in her maturity. She ain't tryna get TOO turnt up in the club.
"Dollar Bill" is a bit of an anomaly, though – her first single "2 Bad Habits" falls more in line with the album's content. Angie's almost unhealthy obsession with love is visceral, saying her dude is like "sweet brown sugar to a diabetic, need a paramedic." Then on "Magnet" she's fed up with always attracting the wrong guys, lamenting that "the good girl loses every time." But here's the key – Angie expertly sings about pain without the pity. She's frustrated but rarely does she throw stones, so to speak.
Instead, she sings about looking for a new start with Dave Hollister on "Begin Again," with her hearty vocals melding nicely with Hollister's robust delivery. But Angie's a dreamer, and over the title track's tinkling production, she imagines her perfect man – a butt-naked brother scrambling eggs in her kitchen.
Angie must have fallen asleep watching Ving Rhames in "Baby Boy."
The second half of the album is noticeably more mellow than the first and the preceding tracks aren't nearly as strong as their predecessors. Most aren't bad – "Forget About Me," makes an impression as her vocals skip across organ keys – but better sequencing would have helped the album from feeling so frontloaded.
At just 10 tracks, Dream is very concise, thankfully not overstaying its welcome.  The album's moody, mellow tones and frequent life lessons might be a turnoff to younger ears – I can definitely see some of y'all turning up your noses at the self-explanatory "Clothes Don't Make A Man." But like any good mentor, that won't stop Angie from sharing her wisdom.
Angie's seen it all, and she isn't afraid to tell you about it. This is Mother Nature's season, and she ain't going nowhere.
Best tracks: "Begin Again," "Magnet," "Dream"
4 stars out of 5
Can't get enough of Edd? For more album reviews, relationship talk, pop culture news and Keith Sweat hero worship, visit SoulInStereo.com and follow him on Twitter @etbowser.