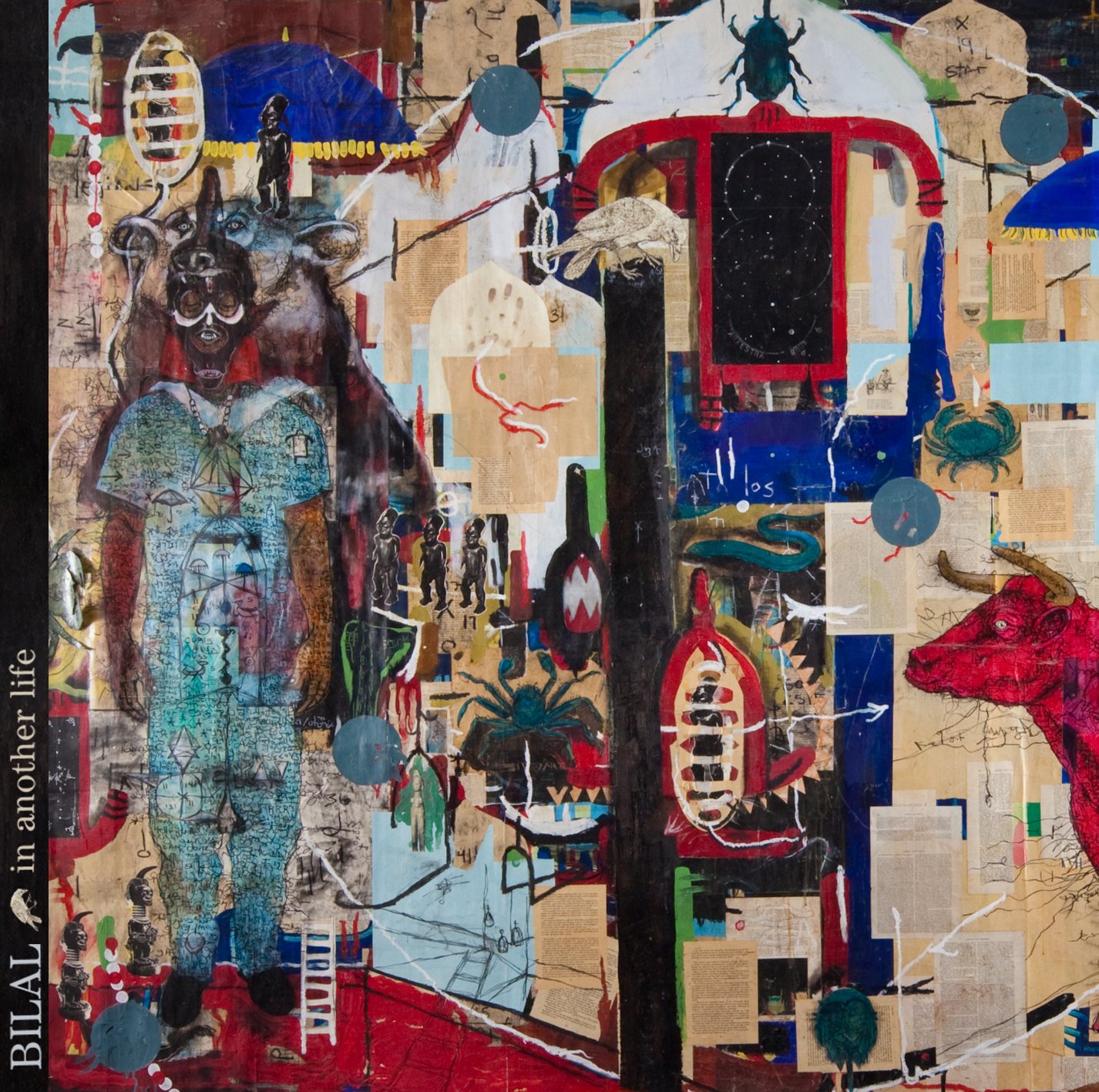 Album Review By: Tara Scudder
Bilal's new release, 'In Another Life' takes the listener on a journey through a conscious, impassioned labyrinth. The choice to have the album produced entirely by Adrian Younge affords a consistent gritty sonic feel throughout the experience. The album's cover, designed by Angelbert Metoyer, illuminates the enigmatically imaginative yet humanistic qualities of the work contained within the album.
The journey begins energetically with 'Sirens II', familiar for its build off of Younge's 'Sirens' which was sampled in Jay Z's "Picasso Baby" single on the Magna Carta album. The sensual, stout track paves the road for the journey ahead, taking the listener away into a dark, sensual abyss.
The song beautifully transitions into "Star Now", where Bilal delivers his trademark jazz-trained sweeping vocals accentuated in Younge's intense celestial-inspired landscape. The result is a track with an entrapping environment that's both hauntingly ethereal and somatic.
The album then segues into a considerably different experience. 'Open Up The Door' is a refreshingly lighter song that explores the hills and valleys of a relationship. His triumphant optimism radiates through, making it a standout selection for those going through hard times in love. "I Really Don't Care" renders itself as additional fodder for coaxing a former relationship to reconnect. A melodic, summery sweetness fills the track, allowing Bilal's vocals to shine through.
The groovy, funk-laden, single "Pleasure Toy" featuring Big K.R.I.T. calls up a contagious 80's-influenced beat you'll get up out of your seat for. The luring lyrics and tempo make this an infectiously pleasurable track to look forward to at a live performance of the album.
The singer covers a myriad of subjects in this album but doesn't lose touch of the civic-mindedness that helped define him previously. "Satellites" expresses his dismay as he contemplates the actions of society from afar. Wisely composed lyrics aid in the longevity of track while being truly fitting for current societal times.
"Lunatic" unrestrictedly slices through the gloomy feeling left by the previous track. His barbed, peppery vocals create an intentionally reckless and free-spirited aural mosaic.
"Money Over Love" obliterates the old adage that the best things in life are free. A well-placed feature by hip-hop icon Kendrick Lamar reveals the two as kindred spirits. The track's namesake philosophy enacts an intriguing perspective on current societal norms and relationships.
The album then smooths into a couple tracks recognizant of his earlier work. "Love Child" places an emphasis on letting go and listening to your heart.
"Holding It Back" peruses the incapacitating qualities of love. The airy, passionate track is well-accentuated by a feature from New Zealand artist Kimbra.
Bilal's exceptional ability to encapsulate experiences with strong emotions is highlighted in "Spiraling", where he vocally paints a picture of a woman he was once enamored by. He expresses disappointment as acknowledges that she's becoming virulently out of control emotionally. He shamefully finds himself still longing for what they once had, despite warning the listener of the danger of being caught up in her rapture. The debilitating cycle continues to plague him as the song ends.
The album wraps up with "Bury Me Next To You", a track being immersed in a volatile relationship.
This is a well-thought-out album that will definitely satiate Bilal's core fans and appeal to music fans looking for something authentic in today's saccharin-coated market.