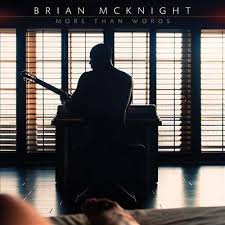 Words by Edward T. Bowser, SoulInStereo.com
After enjoying a career that has spanned two decades, a multitude of signature hits, countless songwriting credits and a still-flawless falsetto, you'd think Brian McKnight would have nothing to prove.
You'd be wrong.
Last year this time McKnight made headlines for all the wrong reasons after an adult-themed song went viral. Clearly, the track was tongue in cheek (so to speak…) but it was proof that all press isn't necessarily good press.
On More Than Words, McKnight's 12th studio release, he aims to erase memories of his lecherous gynecologist persona and remind us that he's one of the best balladeers of the past 20 years.
One thing that can't be questioned is McKnight's voice. The first single "Sweeter" is literally the definition of his vocals – they're gentle yet strong enough to balance out the light, airy track. "Trying Not To Fall Asleep" is the kind of track McKnight can make, well, in his sleep. It's just that trademark voice with piano keys as a backdrop.
The proceedings pick up with the midtempo knock of "4th of July," where McKnight is mesmerized by the freedom his new relationship provides, and "She Doesn't Know," where he plays the role of secret admirer. But it's the title track that impresses the most – McKnight tosses out the lip service in favor of creating a lasting relationship. "It'll be the sweetest thing you've ever heard," he croons. It's that maturity and introspection that has been a hallmark of McKnight's career.
McKnight's sons even follow in their dad's footsteps. Brian McKnight Jr. almost sounds like a young Stevie Wonder on "Ididntreallymeantoturnuout" and while Niko McKnight does an admirable job on "The Front, The Back, The Side," the awkward social-media themed lyrics sound like 106 & Park fare. At least it's something different.
With the exception of "Don't Stop," where the funky beat fails to mesh with McKnight's laid-back vocals, there is little that falls short on More That Words. The trouble is that McKnight plays things TOO safe. The Latin-tinged "Slow" and marching-band percussions of "Another" slightly spice things up but mostly it's just business as usual. More Than Words will have a tough time standing out from McKnight's more well-known work.
McKnight's hard core fans will rejoice knowing that More Than Words puts him back in familiar territory. Still, you can't shake the feeling that McKnight held back a bit here – although you can't blame him for playing it safe after the commotion that viral vid stirred.
No risks here, but his core fans will be rewarded.
Best tracks: "More Than Words," "4th of July," "Sweeter"
3.5 stars out of 5
Can't get enough of Edd? For more album reviews, relationship talk, pop culture news and Keith Sweat hero worship, visit SoulInStereo.com and follow him on Twitter @etbowser.