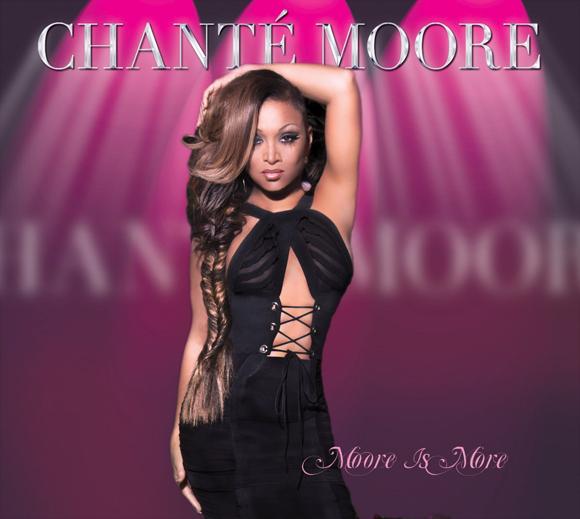 Words by Edward T. Bowser, SoulInStereo.com
Chanté Moore doesn't waste any time, does she?
Three episodes into TVOne's reality show R&B Divas: Los Angeles, and Chanté drops her newest album, the first one in five years. You can't accuse her of failing to capitalize on a golden opportunity.
But don't be mistaken – Moore is More isn't a quick cash-in on her renewed stardom. Newer fans may only know Chanté for her outlandish reality-show antics – from random Wonder Woman jumpsuits to babydaddy drama. Longtime fans, though, know better. This is an opportunity for Chanté to remind listeners that she possess one of the most potent voices in R&B.
Like I said, Chanté isn't one to waste an opportunity.
Mostly backed by a piano, Chanté belts out one of the best R&B tracks I've heard all year on "Don't Make Me Laugh." "This hurts too much, do you even call it love?" she sarcastically asks while turning her back on her lost love. The passion in her voice nearly pierces your soul. It's almost reminiscent of Mariah Carey in her glory days – and not just because of the ridiculous octaves Chanté effortlessly hits.
Bet you forgot she could do that. She's more than happy to remind you.
Chanté's voice has barely budged from the heights of its heyday. The subtle midtempo groove of "Baby Can I Touch Your Body" is proof of its awe-inspiring power. But this set truly succeeds on its songwriting. First single "Talking In My Sleep" is a different take on the tried-and-true wandering heart tale, as Chanté questions if daydreaming about another dude is really cheating. (hint to Chanté – yes it is). "Alone" is a sassy kiss-off to her ex; she's almost giddy as she says "you snatched defeat from the jaws of victory." And "Mrs. Under, Stood" allows a trampled woman to finally stand on her own.
Unfortunately, the second half of the album returns to the status quo. "On and On" is the usual dull dubstep track that every R&B artist must be contractually required to add to their albums. Stuff like that makes me think the Illuminati is real. On the upside, the surprising cameo from Da Brat shows she hasn't lost a step.
"Giving You My Always" sounds great but lacks the punch of earlier tracks. And "Jesus, I Want You" is soul-stirring but nowhere near as powerful as the live version she debuted on R&B Divas a couple of weeks ago.
Moore is More may be uneven at times but you cannot question the power of Chanté's voice. Her jazzy remake of Julie London's "Cry Me A River" (no, young'ns, not that one) will nearly melt your MP3 player. Few tracks can exude such emotion while remaining calm and restrained. It's not often a remake surpasses the original, but Chanté does it effortlessly.
It's just another opportunity to remind you that Chanté's more than just a reality TV star. She's an R&B powerhouse.
Best tracks: "Don't Make Me Laugh," "Cry Me A River," "Talking In My Sleep"
3.5 stars out of 5
Can't get enough of Edd? For more album reviews, relationship talk, pop culture news and Keith Sweat hero worship, visit SoulInStereo.com and follow him on Twitter @etbowser.